Beats by Dre's latest instalment in its 'The Game Starts Here' Rugby World Cup campaign focuses on semi-finalists New Zealand and their iconic Haka dance.
Part of the new campaign features a film documenting the history and meaning behind the war dance as told by Master Inia Maxwell – the All Blacks resident Maori expert and the man who teaches the New Zealand team their Hakas.
The 'We Belong Here' documentary shows Maxwell, who worked on the Invictus film with Clint Eastwood, teaching the New Zealand National Rugby Secondary Schools Champions, Rotorua Boys, the Haka.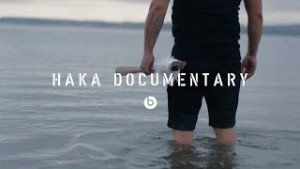 In it Maxwell says that "the beginning of Haka, starts at the beginning of time," and goes on to state that "in every Haka there is a message or a tribute to somebody, it's a vehicle for us to be able to express ourselves".
To accompany the short documentary, there is also an interview with New Zealand captain Richie McCaw who describes the Haka as "a physical representation of what it is to be a New Zealander" and adds that "the whistle is the kick off for the game, but kick-off starts when you perform the Haka."
The ad builds on a growing body of work from Beats by Dre which offers a more intimate insight into the minds of some of the world's most dominant athletes such as Serena Williams, Lebron James and Neymar Jr. The short documentary can be viewed in full above.