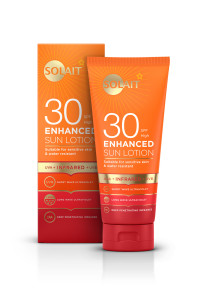 Biles Inc. was briefed by Superdrug to extend its best selling Solait sun lotion range to include Infrared protection variants.
Damage from infrared rays is relatively unknown in the UK but awareness is growing quickly in markets such as Australia.
Superdrug is launching special products that help ensure the consumer has protection from infrared rays as well as the normal 5 star protection UVA/UVB offering in sun care lotions.
Biles Inc. developed a strengthened pack architecture to build added value to the range and introduced an extended colour palette to signify the key differentiator: Infrared protection.
The resulting design features a pictographic representation of the layers that different types of rays penetrate, to quickly and simply communicate the benefit of infrared protection. It is sold in a tube with an outer carton that further builds quality perception and helps justify the price premium over the core range.
Creative Director Anthony Biles commented, "Solait is a fantastic brand, one from Superdrug's top echelon. This innovation places Solait ahead of a majority of its competitors and our design solution delivers confidently against this leadership position."
The new range is launching across Superdrug stores over the coming weeks.