In a bid to raise money for its charity partnership with Comic Relief, British Airways has launched a pre-flight safety video with some of Britain's most well-known and loved faces.
People Just Do Nothing's affably useless Chabuddy G (played by Asim Chaudhry) stars as a fictional director, tasked with getting performances out of the likes of Sir Ian MacKellan, Thandie Newton, Gillian Anderson, Chiwetel Ejiofor and Rob Brydon.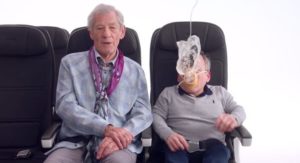 Pre-flight safety videos as a form of entertainment are nothing new but this effort from British Airways, which was created by BBH London and directed by 2AM's Becky Martin, is more than worth sitting through the entirety of its six-minute running time (if only for Rowan Atkinson's stellar Mr Bean-esque cameo).
"It's extremely important to us that customers engage with our safety video, and involving some of the nation's most well-known personalities has given us the chance to create something fun that we hope people will watch from start to finish—and remember," said Alex Cruz, British Airways' chairman and CEO, in a statement. "We've worked with Comic Relief since 2010 and our customers have already helped us generate £16.5 million for great causes. We hope the new video will enable us to exceed our goal of raising £20 million by 2020."
It will be shown on all BA flights starting September 1, but the airline pre-released the video in hopes of garnering even more attention for the cause.
Source: Little Black Book