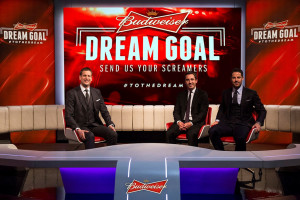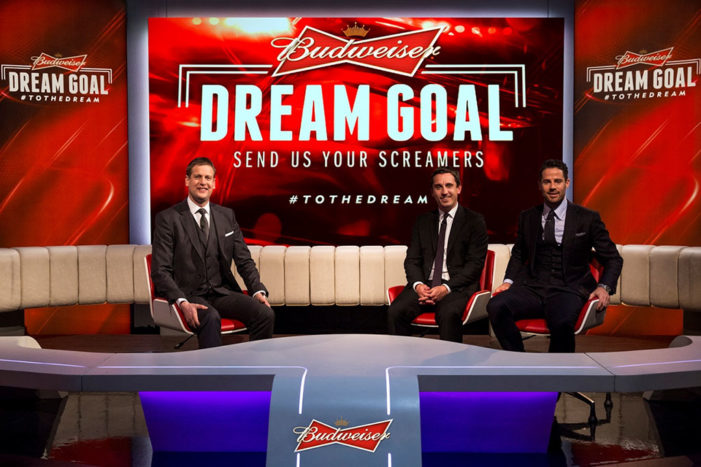 Budweiser has launched Dream Goal, a hunt for the greatest amateur goals from across the country. Dream Goal will be fronted by Sky Sports football talent – footballers-turned-pundits Jamie Redknapp and Gary Neville, presenter and broadcaster Ed Chamberlin and commentator Martin Tyler.
The Budweiser Dream Goal competition challenges British amateur footballers to submit videos of their 'dream goals' in the hope of winning the ultimate prize – for their goal to feature in Budweiser's spring TV ad campaign, supported by Sky Sports. The campaign spearheads Budweiser's most recent commitment to supporting grassroots British football as part of its global association with the sport.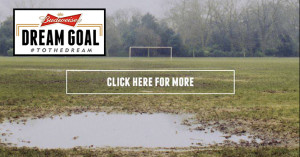 Dream Goal will officially hit consumers' TV screens on 30th March, with a 30 second TV advert that will run across all TV stations. Consumers can 'send their screamers' to Budweiser by visiting the Dream Goal website, and submitting a video of their greatest goal. Sky will then screen five exclusive partnership spots across live games from mid-April showcasing potential contenders for Dream Goal. The top screamers will be formally announced exclusively on Sky Sports.
Budweiser will work with Sky Sports to promote the campaign, as well as TalkSPORT, The LAD Bible, The SPORT Bible, Buzzfeed and Grass Root Goals – all popular destinations for sports fans and supporters themselves of grassroots football.

Andre Finamore Amaral, Senior Brand Manager at Budweiser, says of the campaign: "Through Budweiser Dream Goal we want to capture the magic of Sunday league football, and elevate amateur star players to an almost professional status. Every football fan dreams of seeing their goal on TV, and we are all thrilled to be making this dream a reality and continuing our longstanding support of British football."
Jason Hughes, Head of Creative Solutions at Sky Media, says of the campaign: "It's brilliant to be able to collaborate with Budweiser on its Dream Goal campaign. Sky Sports is the home of football and this was a fantastic opportunity for two brands to bring more joy and excitement of football to all fans who live the dream!"
Earlier this month, Budweiser also announced a new long term agreement with The Football Association, which will see the iconic brand become the Official Beer Partner of The FA Cup until 2018. As Official Beer, Budweiser will continue to bring the world's most prestigious cup competition closer to the fans through an exciting programme of activity.
This will include a continuation of the Budweiser Club Futures programme, which has invested £1m into non-league football over two seasons and was supported by The FA and the League Manager's Association.