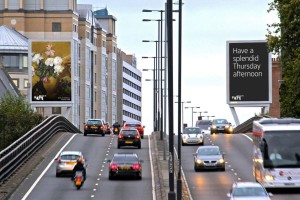 Out of home (OOH) work's inclusion in marketing campaigns has been found to considerably bolster the public's purchase intent, according to a five year study from Posterscope and Dentsu Aegis Network.
Analysing over 50 individual client campaigns, testing more than 1,500 creative executions and surveying over 20,000 respondents, the Integrated Communications Evaluation (ICE) study found that campaigns with OOH boosted purchase intent by 13 per cent when compared with those that did not feature it.
Furthermore, it was found to be one of the leading drivers of interpersonal relations, the emotional connection people feel with a brand, which drove almost half of all purchase intent (44 per cent).
Interpersonal relationships also seemingly looked to power purchase intent increasingly, accounting for 36 per cent in 2011/12 to 50 per cent in 2013 to 2014.
OOH was also found to carry a higher effect on interpersonal relations than any other medium, sitting at 45 per cent.

Glen Wilson, managing director of Posterscope, said: "ICE is something we have used for a number of years to evaluate campaigns and to better understand the individual drivers behind campaign success. Over time it has developed into an extremely sophisticated system we can use to better understand how OOH contributes to campaigns and how it can impact and influence consumers. We have always known that OOH is an incredibly powerful part of the marketing mix and a significant part of any successful campaign and the positive impact it can have in amplifying the overall media effect on purchase intent."
Interpersonal relations are measured by combining metrics including trust, relevance, customer service, expertise, convenience and caring.