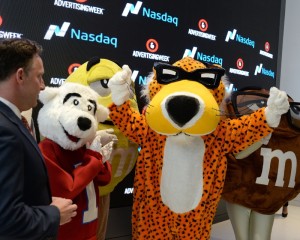 Chester Cheetah, the official spokes-cheetah of the Cheetos brand, one of the flagship brands from PepsiCo's Frito-Lay division, has earned his paw print and a permanent place on the Advertising Week Walk of Fame in New York City. The winning brand icons were announced at the NASDAQ Market Site in Times Square.
"We're thrilled that fans love Chester Cheetah as much as we do," said Jeannie Cho, senior director of marketing, Frito-Lay North America. "He perfectly embodies the Cheetos brand – he's dangerously cheesy!"
Induction into the Advertising Week Walk of Fame is reserved for only the most influential brand icons, and is decided by the general public each year. Chester's cool cat charisma has made him a fan favorite over the years and a spot on Madison Avenue is one step closer in Chester Cheetah's journey to liberate mischief for families everywhere.
The Grand Central Partnership and Advertising Week organizers have brought the Walk of Fame to life with a combination of bronze plaques and permanent lamppost street banners on Madison Avenue. The Advertising Week Walk of Fame is made up of icons that have successfully defined brands for years and, according to the organizers, Chester Cheetah has undeniably earned his spot among them.