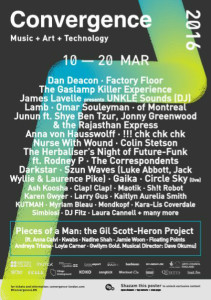 Shazam, one of the world's most popular apps, has enabled the campaign of the coming third edition of Convergence, an established multi‐venue event series in London.
The annual festival's entire marketing activation is enabled with Shazam's Visual Recognition. By 'shazaming' Convergence's artworks, users will be redirected to a page offering the download an exclusive 12 track album for free, which features music from a selection of acts performing at Convergence.
In total, 1,000 posters, 15,000 flyers, 3 billboards and 200 4-Sheets posters will be enabled with Shazam's technology.
Sam Woods, VP International Strategic Partnerships & UK Sales at Shazam, said: "We are really excited to partner with such a creative event and to support Convergence by digitalising their campaign."
Glenn Max, Convergence Festival Organiser, added: "It's a perfect opportunity for Convergence and Shazam to collaborate on this unique technology in context to a festival that celebrates innovation.It is exactly this kind of engagement that Convergence hopes to build with creative brands."