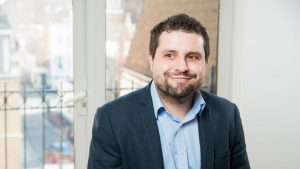 Copper, the specialist infrastructure, property and built environment communications and engagement consultancy, has appointed Ben Heatley as Director, to support the company in achieving continued growth.
This strategic hire for Copper comes during a period of rapid growth for the company and off the back of substantial recent wins relating to projects with Highways England, HS2, RWE, the Duchy of Cornwall and Southend on Sea Borough Council, amongst others.
Prior to joining Copper, Ben was a Director of FleishmanHillard Fishburn in London, where he led global communications programs focusing on energy, industrial and manufacturing sectors. Before this Ben was Head of Corporate Affairs at Dearman, the rapidly growing technology company, and has also held senior positions at the McLaren Technology Group and Rolls-Royce Plc.
Ben will take a leadership role at Copper, delivering strategic advice on major infrastructure and property projects, while supporting clients with crisis, issues and reputation management.
Claire Gordon, Chair of Copper said: "For major infrastructure and regeneration projects to succeed they must build public awareness, understanding and support. Copper's approach to communications and engagement for infrastructure companies and projects is delivering outstanding results and we are growing rapidly as a result. Ben will play a key role in our future success, providing world class expertise to our clients while helping us to develop and evolve. It's an exciting time for Copper and we are delighted to welcome Ben on board."
Ben Heatley, Director of Copper also said: "Copper brings an outstanding level of expertise, strategic thinking and communications acumen to the most complex infrastructure and development projects. By truly understanding the industry, the needs of the public and crucially how to deliver effective communications programmes, it's able to achieve extremely challenging goals on demanding projects. As such, I am in no way surprised that the company is performing so well or that its clients rave about the service it offers. It's exciting to be able to join such an intelligent and fast moving company which is delivering demonstrable results for clients, while playing an increasingly important role in UK infrastructure."
Source: Copper