myAko is on a mission to revolutionise the care and education industries and improve the way these businesses are managed. Independent global creative agency Crowd has helped ensure this learning platform's purpose shines through every element of the organisation. The new brand was brought to life across a visual and verbal identity, followed by social media assets, website landing page and an animated launch video.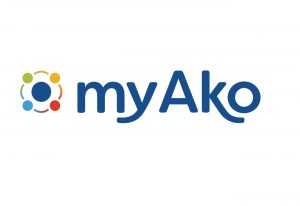 Working in the care sector is challenging and requires continuous training. myAko works with employers, enabling everyone to be aligned, motivated and focused, which drives the organisations forward. The business management tool allows you to undertake a knowledge assessment and complete refresher training, communicate easily with your colleagues and receive performance reviews at one place.
myAko partnered with Crowd to help define and visualise the brand.
Emma Glazier, Head of Social, at Crowd, says: "This wasn't just a marketing project. Our role was to help this incredible initiative define their brand purpose. We created the distinctive name: "Ako" is a Maori word meaning "to learn, study, instruct, teach, advise". This concept led to a brand idea that could reflect itself across every area of the business – from the logo design, to the learning platform."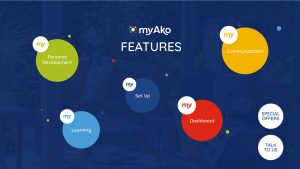 The innovative platform allows carers to learn the skills they need faster, and more efficiently than ever before – giving them more time to concentrate on the important task of care. And for employers, myAko brings together all aspects of staff management into one place.
The brand strategy inspired a visual identity enclosed in the vibrant logo. The colour palette is made up of bright and bold colours, and each one of them represents a function of myAko's offering. The typography includes Quicksand and Open Sans to combine modern proportions with an organic appearance, creating a friendly and legible typeface. It helps to position the company as caring and trustworthy.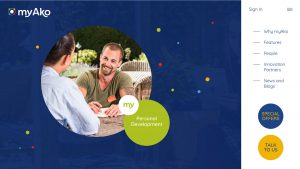 Complemented by natural shots and an animated launch video, the brand is designed to give people an instant sense who myAko is: personal, empathic and positive. The tone of voice has been created to build trust with customers but be perceived as experts in the field at the same time.
Kevin Ashley, Managing Director, myAko adds: "Having worked with a lot of agencies in the past, what has impressed me about Crowd, is their creativity, flexibility, and determination to get it right. Along with their willingness to listen, reflect and build a solution that meets our aspirations."
Source: Crowd