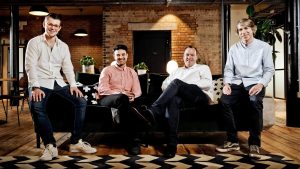 DLMDD, the sonic branding agency, has today launched a new specialist production division, DLMDD Productions, to cater for multi-disciplinary music production projects across the advertising, media and the film landscape.
As well as realising and bringing to life the agency's sonic branding initiatives for clients including Amazon, Co-op, Babbel and NBC Universal, DLMDD Productions will bring its world-class roster of global music talent to the advertising and production communities. The division builds upon projects already delivered for agencies such as McCann, BBH, Hey Human and Saatchi & Saatchi across brands including X-Box, Guinness, KFC and Toyota.
Sascha Darroch-Davies, DLMDD Co-Founder and Agency Partners Director, says: "We're a year into the DLMDD journey and more certain than ever that music and sound offer brands and marketeers a unique and special kind of magic to reach their audiences with. We're working with some extremely exciting clients who recognise this and 2020 sees the launch of ground-breaking activations from them. We're also seeing increasing demand from our friends in ad-land who want to harness music's power to connect, engage and inspire. Our new production division is designed to give agency creatives and producers a unique and collaborative way of working, not only with us but with our talent network – some of the foremost musicians, artists, producers and composers globally. It's an ethos and way of working which we believe will be a real industry first."
DLMDD Productions will offer world-class music services, specialising in original composition and production, music supervision, and talent partnerships. In line with its growth, the business has bolstered its team with the appointment of two new Creative Music Consultants, Lizz Harman and Erin McCullough. Both bring vibrant and active careers as musicians into their new roles; Lizz as a songwriter and topliner and Erin as a musical director for acapella choruses.
DLMDD Productions will draw on the team's vast experience managing music and sound projects for brands including HSBC, M&S, Volvo, Unilever, Amazon, Coca Cola, Nokia, Magners, O2, NSPCC and Ben & Jerry's, working with artists including Dizzee Rascal, Zane Lowe, Avicii, Guy Chambers and The Darkness.
Source: DLMDD