What happens when we're struck down and hurt, when bones are broken and organs are split? How do we come back, who helps us; family, friends? What does it take, as human beings, to have the patience and energy to push through the pain and frustration, to find the strength to heal?
These are the questions a new film from award-winning creative agency Don't Panic asks us in their new commercial, 'Journey to Independence' for Leonard Cheshire.
Appointed as Agency of Record in February 2019; this is the first piece of creative that Don't Panic have created for the UK disability charity within their new campaign 'Journey to Independence'.
Shot by Stink Films' new talent, Matilda Finn, the 60' film takes us through the journey of one survivor's recovery from accident to job interview. Focusing on the different stages of rehabilitation, the film aims to convey how people can be supported in each sequence of this story; to live, learn and work, and the monumental impact that such an experience has on an individual.
"Eight in 10 people with a disability weren't born with it and everyone will know someone, a friend or a family member, who has experienced this. It can happen to anyone and often is as a result of accidents, strokes, heart attacks or other health conditions" said Sonia Triki, Head of Legacy and Individual Giving.
"For many of us, it is the hardest thing we ever have to face. Sometimes people can feel isolated, and this is made worse by out of date attitudes. It is vital that people don't feel alone and know that Leonard Cheshire is there to support you. We believe everyone, whatever their ability, should get the same opportunity to live the life they choose"
"As an organisation we've existed for over 70 years, since the day in 1948 when Leonard Cheshire brought a dying man into his home to care for him. Leonard Cheshire is taking a new direction in 2019; we've not only rebranded but re-approached our strategy for the next five years. Part of that process is to hire talent such as
Don't Panic. Their experience and their bold approach perfectly captured the new direction and corresponded to where our brand now is: proud, positive and pioneering." said Kate Burt, Leonard Cheshire's
The film launches a broader through-the-line campaign that delivers strategy, campaign concept, creative executions, distribution and media, the TVC will be tested across digital first with the ambition to then deliver creative over TV, OOH and press.
Leonard Cheshire's new overarching strategy of 'Supporting Journeys towards Independence' details how they aim to help people living with disability; so, they can live, learn and work as independently as they choose. To achieve this and to ensure future sustainability, Don't Panic will help increase awareness of their work and opportunities where individuals can volunteer their support.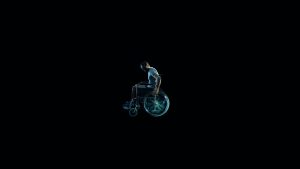 George McCallum, Creative Director, Don't Panic said "If you want to know about work ethic, ask a disabled person. Disability can happen to anybody and when it does the hard work never ends; and yet the physical and emotional struggle of disabled people often goes unnoticed or unseen. Leonard Cheshire see not only disability but ability. Offering much-needed support and understanding whoever you are, and whatever your journey to independence might look like. To shine a light on just one of these stories we posed a run-of-the-mill interview question; "What's your work ethic like?" And answered it by showing the hard, painful, yet empowering story of one disabled man."
Shot over four days on an Alexi Ari camera, 'Journey to Independence' used a variety of locations across London to capture the story of its protagonist. Award-winning post house, The Mill, worked on the campaign. Matilda Finn is part of Stink Rising, Stink Films global home for rising talent.
Joe Wade, founder and Managing Director of Don't Panic, added "My Grandmother worked in an early Leonard Cheshire home after WW2 and maintained an interest in the organisation throughout her life, so I've always been aware of the great work they do. We're looking forward to helping Leonard Cheshire find new and modern ways to tell their story to the world, encouraging a bold approach and moving away from their comfort zone."
Source: Don't Panic