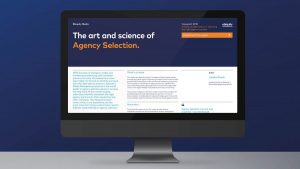 Ebiquity, a leading, independent, marketing and media consultancy, announced the global expansion of their Agency Selection & Management service, which is part of the Media Management practice.
Ebiquity's Media practice provides the most comprehensive, end-to-end agency selection framework and process available globally, with over 200 national, multi-market, and global pitches since January 2016.
The Media Management team backed by 600 media practitioners throughout our workforce, has an unrivalled international agency selection and management experience, with fifty senior, expert consultants, specialists in agency appointments, with agency, advertiser, tech and digital expertise.
he Agency Selection & Management service is designed to define the most relevant operating model, to identify the best potential partners, and to run a comprehensive selection process customisable to the client requirements. The framework covers media agencies of record, as well as specialist agencies, such as search.
The Media practice often draws on expertise from Ebiquity's Tech practice to help select and manage relationships with agency partners and technology providers to service our client's best interest. It is an end-to-end framework, where Agency Management Services is included, and it provides:
KPI Setting – establish the right measures of media and business efficiency and effectiveness
Media Strategy Review – pre-flight checks to test your agency's plans before they buy
360 Digital Consultancy Review – end-to-end assessment across all digital investments
With the expansion, the Media practice has created a Viewpoint paper "The Art and Science of Agency Selection" that can be downloaded here.
Laetitia Zinetti, Managing Principal Media Management, says: "Agency selection is an art and a science – an art because it demands stakeholder management and personal relationships, a science because it requires rigorous application of structured methodology. The Ebiquity team is best armed to advise you on this complex process."
Bob, Rupczynski, Corporate Vice President, Global Media at McDonald's says: "McDonald's global marketing function is going through a complete process of transformation currently, and it's essential that we're accompanied on this journey by the right agency partners. Achieving full transparency of every cent spent on media and marketing is something we demand from our agency partners. Ebiquity's media management team has been with us every step of the way and helped us choose the right roster of agency partners."
Source: Ebiquity