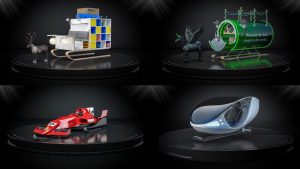 Santa Claus has been delivering toys to children across the world for centuries in the same old sleigh year after year.
According to Larry Silverberg, a professor of mechanical and aerospace engineering at North Carolina State University, it would take around six months for Santa to realistically travel the globe. Speed and aesthetics are a problem that Santa still faces in 2018 – so it's time for Santa to trade in his old wooden ride for something new.
With the technology today, the upgrade possibilities are endless. So what would Santa's Sleigh look like of five if the world's most iconic brands designed it?
Leeds based agency, Edit, partner with RedLetterDays and re-imagined Santas sleigh through the eyes of Carlsberg, Apple, IKEA, Red Bull and Ferrari. The full 360 designs can be explored below:
If IKEA designed Santa's Sleigh
'The Sladtür' sleigh offers a light flight, with plenty of storage and a minimalist style. Taking inspiration from the Scandinavian brand, Santa is ready to go with a self-build flat pack sleigh and a hex key complete with the brand's primary colour palette storage units. Edit imagine the brand to stick with traditions and have the sleigh powered by Reindeer magic, but offering a more comfy ride with extra lighting to better guide his way. The flat pack style allows Santa to easily pack his transport away during the less busy months.
If Ferrari designed Santa's Sleigh
With just 12 hours on the clock and 2.2 million children to deliver a present to, Santa may need some speed behind him to finish off the task. Inspired by Ferrari, the 'F1 SLGH18' delivers 660 reindeer power at 8000 rpm. Santa Claus will be delivering presents at record-speed with the SLGH18's super-charged engine and soft landing with his new ski's. The new sleigh is already in festive spirit, sporting the red look and sponsored by Santadeer and Bell.
If Carlsberg designed Santa's Sleigh
If Carlsberg designed Santa's Sleigh, it would probably be the best in the world. Move aside reindeer because the lightening-fast unicorn has taken over ensuring a magical journey around the world. The mobile man cave comes equipped with a state-of-the-art sound system, comfy leather seats, beer (non-alcoholic) on tap, outdoor heaters, and festive lighting. The can shaped sleigh presents plenty of storage making it the best in the world – probably.
If Red Bull designed Santa's Sleigh
Fuelled by sugar, caffeine, taurine and B Vitamins the Red Bull upgraded sleigh won't need reindeer. This unique design will propel Father Christmas across the skies fully equipped with a high-performance snowboard for a more adventurous present delivery service.
If Apple designed Santa's Sleigh
The Apple 'iSleigh' with its no nonsense smooth design brings the sleigh into the future with its high-tech gadgets and crisp white feel. With the top of the range navigation system, Siri on hand, and virtual gifts transported and stored in the cloud – this AI powered sleigh will bring Father Christmas in to the 21st Century.
"In a festive spirit, we wanted to take a different look at the sleigh which has been traditionally depicted for many Christmases in the past. We wanted to take a new look at how Santa's sleigh might be designed by some of the world's most loved brands. Take a look at some of the new concepts, I'm sure Santa would be happy to deliver presents to children all over the world in his new rides."

— Dan Mountain, CEO at Red Letter Days
Source: Edit