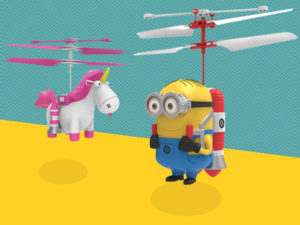 Energy PR has been appointed for the second time by the inventors at Wow! Stuff to support the launch of the company's brand new Star Wars and Despicable Me 3 blockbuster licensed products.
Energy PR has already run several successful campaigns for Wow! Stuff. The full service agency will kick-start its communications plans for the Despicable Me 3 Heliball Flyers range this summer, before managing the launch of new Star Wars products in September. While the details remain firmly under wraps, it includes innovative products, such as the patented Heliball, plus a revolutionary new collector's item, The Holopane 25, which is set to create a new gift/gadget category.
Wow! Stuff, a British company that invents toys, gifts, gadgets and tech, has tasked the agency with boosting product sales across its key retail partners.
Richard North, Founder and CEO at Wow! Stuff, said: "Star Wars and Despicable Me are two of the biggest licenses in the UK, and it's an exciting time for the company as we're about to introduce a ground-breaking new product to the market – the Holopane 25. This is a closely guarded secret until Force Friday, but the PR programme from Energy PR will create buzz, support retailers and get these gadgets flying off the shelves. The team at Energy PR understand our Wow! Stuff philosophy and our commitment to bring amazing, creative and unusual new products to the market. The campaigns they put forward reflect the quirkiness and fun that we inject into our gadgets, gifts and toys, so it's a perfect match in terms of working together again on these next big projects."
Energy PR will manage a series of creative tactics, in addition to a media relations programme. These include video production, stunts, content creation and securing brand partnership opportunities. The activity has been strategically planned to coincide with the release of the eagerly-awaited Despicable Me 3 film in June, and the latest Star Wars blockbuster, The Last Jedi', in September.
The campaigns will specifically target parents, children, teenagers and all fans of the Despicable Me and Star Wars franchises.
Susannah Morgan, Director at Energy PR, said: "We hugely appreciate the amount of creativity, engineering and design that goes into inventing all the weird and wonderful products in the Wow! Stuff range, so are delighted to be supporting the brand for another year. We have masses of experience working for fan and family brands, understanding the channels that the audiences use, and how brands can best engage with them, so this is right up our street. We're also huge Star Wars and Minions fans, so can't wait to get started!"
Source: Energy PR