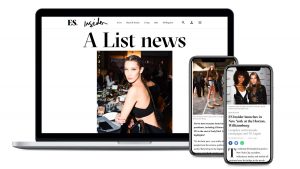 Insider is the Evening Standard's new digital platform reaching high net worth individuals in the UK and North America, focused on quality lifestyle content. Launching November 15, it gives readers unparalleled access to the ultra-lux world.
Content is centred on high profile celebrities, influencers, style, young royals and those 'insiders' in-the-know in society. This dynamic section of standard.co.uk will give readers the key to the world's most magnetic people, places and products. Its editorial flair will unlock the illusive high life, covering the very best of fashion, beauty, design, wellbeing, travel, food and drink.
With offices in both New York and London, the new digital platform has the first US based Evening Standard team who will report with their London based colleagues on the latest trends on both sides of the pond. New journalists to the luxury portal include Lucy Pavia (Insider Editor), Margaret Abrams and Leah Miriam Cooper who have extensive experience across Marie Claire, Vanity Fair and the New York Observer.
Insider's sections include:
A-List. This section focuses on celebrity news stories online and will be accompanied by a print column.
Style. Covering the clothes and accessories worn by the 'It' crowd alongside beauty news, this area of the site will give readers the latest news to stay in the know.
Royals and Society. Readers will get the latest news and features on the young royals, VIP parties and events.
Living. A glimpse into what's new in food and drink, travel and interior design.
The new digital property gives commercial partners the ability to target a hard to reach audience that enjoys life's luxuries through sponsored content, advertorials and bespoke events. The site will help users replicate the looks of those in high fashion with shoppable links embedded into editorial content.
World famous department store Harrods joins Insider as an initial commercial partner to celebrate its first venture into the United States launching a digital e-commerce offering with leading specialty retailer, Williams Sonoma.  Williams Sonoma will now offer a curated collection of 15 classic Harrods items including the iconic Harrods hampers, signature tea blends, premium biscuits, and sweets. This is Harrods' first venture into the United States.
Steve Cording, Head of Sponsorships at ESI Media, said, "Evening Standard readers are a discerning, affluent audience that are typically hard to reach. One in five of our readers opt for premium products rather than standard goods or services, making it an attractive audience for luxury marketers."
David Tomchak, Digital Editor in Chief, said, "Insider is the result of months of continuous improvement and persistence in the pursuit of a design that matches our high goals and standards. It's all down to a clear vision and the right team coming together. Harrods is the perfect partner. In our ever changing industry Insider has a key winning attribute; authenticity. Only publishers that are authentic survive."
Amira Hashish, Digital Executive Editor, said, "Insider is the go-to platform for aspirational living with a global outlook. It marks the launch of the Evening Standard's first office in North America and we are excited to expand the international reach of our quality digital content."
Source: ESI Media