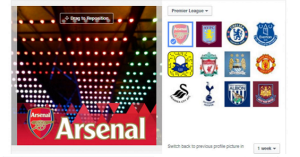 Facebook is expanding on the popularity of its specially-designed image filters, like the rainbow-coloured Pride flag overlay it released to celebrate the legalisation of same-sex marriage in the US, by making them a permanent fixture on the site.
The social network has teamed up with a host of sports teams, charities, movies and other brands for its new Profile Pic Frame tool, to let users showcase their support for their favourite causes and interests.
The decals are currently quite sport-heavy, with teams from the NHL, the NBA, the Premier League all represented. Other options include stickers which let Facebookers show their commitment to the WWF, Girl Scouts of the USA and of course, Star Wars – which has teamed up with the site for similar promotions in the past.
Facebook founder Mark Zuckerberg took to the platform on March 16Â to mark the launch of the product with a status detailing how cricket fans in India and Pakistan were using the filters as part of a campaign called #ProfilesForPeace.
Once a frame has been added, users can choose how long they would like it to appear for – from an hour, to a day, or a whole week, and with a host of categories represented, it's likely that Facebook will continue to team up with brands to give fans more overlays to select from in the future.