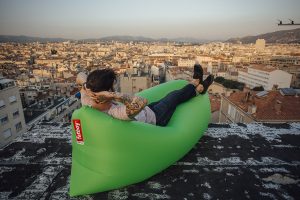 April 30 marks the launch of Fatboy's #GetFat campaign in collaboration with influencer marketing agency IMA. The campaign aims to raise awareness around millennial stress and burnouts due to pressures that social media and technology have created. The year-long project sees high-profile content creators throughout Europe pioneering a positive online movement, fostering a new and more effective way of using social media to promote recreation and relief.
The number of millennials experiencing high levels of stress and signs of a burnout has never been higher. 15% of British young adults experience stress everyday,  14% of Dutch youngsters have experienced a burnout and in France, more and more millennials are simply crumbling under the pressure.
Resolving to turn this trend around, Fatboy aims to bring relaxation back into the lives of millennials with its 'Lamzac' collection, air lounges for the adventurous. Teaming up with IMA, the brand is nurturing a positive online movement through the use of influencers. The campaign revolves around 'chill' moments, 'To-Don't' lists, and inspiring people to #GetFat and relax in unexpected places.
The year-long campaign strategy is multi-pronged, with a generation of well-known ambassadors heading the campaign to establish substantial reach, while smaller influencers will drive engagement. Followers will be encouraged to give influencers design ideas and produce their own #GetFat content, all to be hosted on the GetFat platform. Confirmed ambassadors and influencers include UK-based Rosie Hardy, Neel Wanders and Janine Jahnke.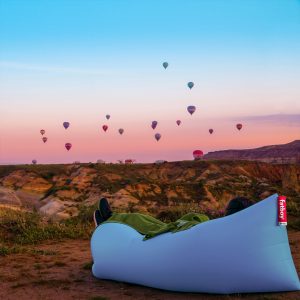 "Too many people are ignoring the fact that we are constantly exposed to the social media 'highlight reels'" says Janine, German travel and fashion blogger. "My travel content is going to show that not every day has to be action packed, and that you have just as great a time chilling out and staying comfortable."
Leontine van der Kaaden, marketing manager of Fatboy remarks, "This campaign reflects everything that Fatboy is about – positive vibes, and helping people step out of their daily routine. We want to create an online movement that inspires millennials to use social media with a different perspective. #GetFat is all about creating quality time, chilling out and being proud to share that."
Emilie Tabor, co-founder and CMO of IMA, comments "I hope this movement sparks a genuine, lasting change in the social media landscape. There is definitely a healthy way to use these platforms for social good, and the campaign celebrates that."
The #GetFat microsite will live within the domain of Fatboy.com, and will allow for interactive components of the #GetFat campaign to be easily accessed. These include a 'To Don't List', links to products and #GetFat road trips. Additionally, followers can win a Lamzac during the campaign period by posting their most chilled out photo on Instagram with #GetFat.
Source: IMA