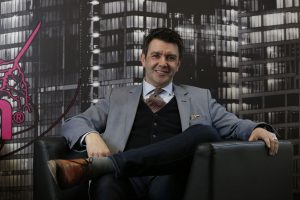 Elland-headquartered Vapour Cloud has enlisted the support of marketing automation platform Force24, as the tech firm ploughs on with its next chapter of growth.
Vapour recently hit the headlines when the board announced a £10m pot to fund at least two acquisitions before the end of 2018. But with plans to expand to a £12m business by 2020, Vapour's market activity does not look set to end there.
The cloud specialist is also on the hunt for 10 new channel partners, to further cement the brand's position as the leading provider of connectivity, voice and storage solutions for UK clients.
Marketing automation technology from Leeds-based Force24 has therefore been implemented to supercharge Vapour's multichannel communications strategy, during this pivotal expansion phase.
Commenting on the investment, Vapour's CEO Tim Mercer said: "The IT industry is unfortunately renowned for a 'smoke and mirrors' approach to working with clients. This has to stop. We believe in being extremely straight talking and specialising in only what we're good at. That way, clients can truly experience the value of great tech, without being burned.
"But we also recognise the benefits of collaboration – something many of our peers seem to shy away from. Force24 will therefore help us to actively target, communicate and nurture relationships with prospective partners – we'll even support them with their comms activity too. We have proven that we can add upwards of £2m revenue to a partner's bottom line, in a matter of months, so there are advantages all round, to this way of working."
Force24 has also been tasked with supporting on other marketing projects including Vapour's upcoming Innovation and Disruption event. The cutting-edge tech expo first came to Leeds in October 2017, but Tim is now keen to build on its inaugural success.
"This year, we want to go bigger and better. We're aiming for more than 300 delegates, and already have some fantastic speakers lined up to talk all things AI, virtual reality and digital transformation," he explained.
"Yes, the tech is next-generation, so it will be exciting to see some 'first reveals' on October 18th. But we will focus on its application in businesses of any size, which is where things get really interesting. We want to rev everyone up to aim for higher performance by 2019, and Force24's deployment of multi-channel communications, will help us get as many relevant bums on seats as possible. The pace of our growth is undeniable, so it is the perfect time to take our automation efforts to the next level – especially in a company that revolves around using the very best tech."
Force24's commercial director Nick Washbourne concluded: "Vapour is fast becoming a leading light in the tech sector – particularly in the North – so this represents a great client win for us. The brief is also right up our street because Tim is clear on the company's objectives – we therefore have the perfect opportunity to demonstrate the bottom line impact that savvy use of marketing automation can have."
Source: Force24