Free The Birds, the independent design agency, has created a bold brand identity, strapline and manifesto for Ann Summers' new range of sustainable lingerie, called Knickerbox (KBX) Planet.
At the heart of the brand is a distinct, black and white three-line KBX logo and a bold mission statement: Be Bad Do Good. This is because although KBX Planet's eco credentials are 100% serious, Free The Birds strongly believes that doesn't mean the branding has to be soft greens and beiges or wafty lettering.
The brand typeface was custom designed and is inspired by the intricate pattern of the lace and the triple strap designs used in the KBX range. Like its target audience and the KBX brand ambassador Lucie Donlan (star of Love Island and an ocean-loving surfer), the branding is confident and bold but doesn't take itself too seriously.
Free The Birds has created a range of branded assets, including the KBX logo, label and swing tag design, also devised the KBX Planet brand manifesto, which focuses on the pleasure of having 'a filthy mind and a clean conscience'.
The KBX Planet name itself comes from Knickerbox, the lingerie retailer which was acquired by Ann Summers in 2000.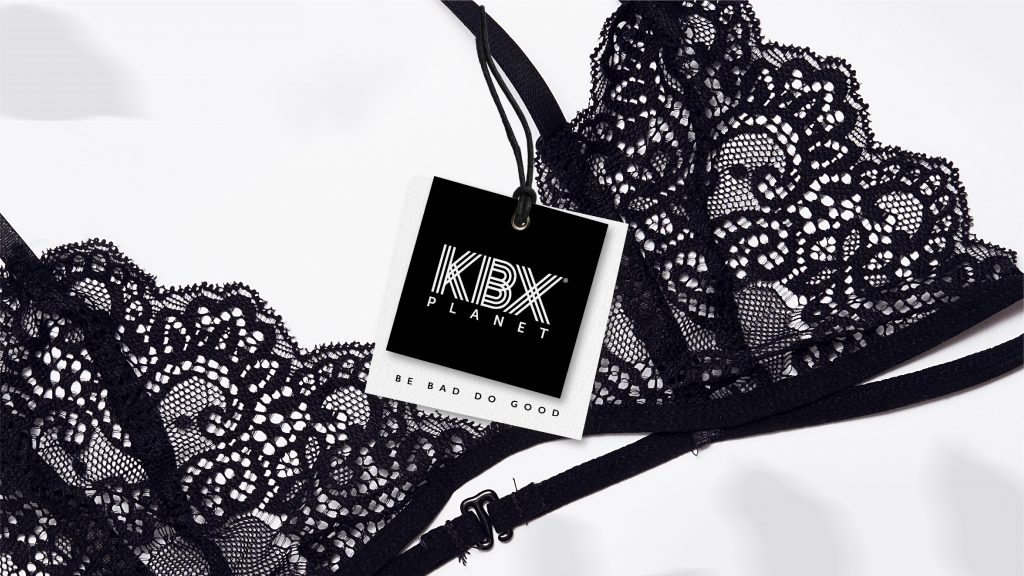 Natalie Amosu, CMO at Ann Summers, said: "We love that Free The Birds understands what our customers are all about – young women who work hard, have fun, want to feel sexy and confident but not at the expense of the environment. That means KBX Planet really stands out among other eco-friendly clothing, fits in with our ethos and puts us in great standing to achieve our long-term ambitions for the brand."
Paul Domenet, Communications Creative Director at Free The Birds, said: "Ann Summers audiences know what they want and that really inspired the KBX team at Free The Birds. It's not always that you work with clients who get on board with a bold strategy that upends the status quo but Ann Summers instantly got what we were doing with KBX Planet and you can see it in the results."
All the garments in the KBX range are Oeko-Tex Standard certified, meaning every component has been tested for harmful substances. The lace in the garments is made from 100% recycled fibres and all the packaging uses recycled and biodegradable materials.
There are currently two ranges: Desirable and Charmer, each of which comprises a bra, a thong and a body. At the moment, KBX is being sold online through Ann Summers but there are plans to make the range available via other retailers, and the product line may be extended beyond lingerie.
Source: Free The Birds