Govia Thameslink Railway, which operates Great Northern, Southern and Thameslink train services, has launched an integrated campaign encouraging customers to choose to take the train to the airport over other modes of transportation.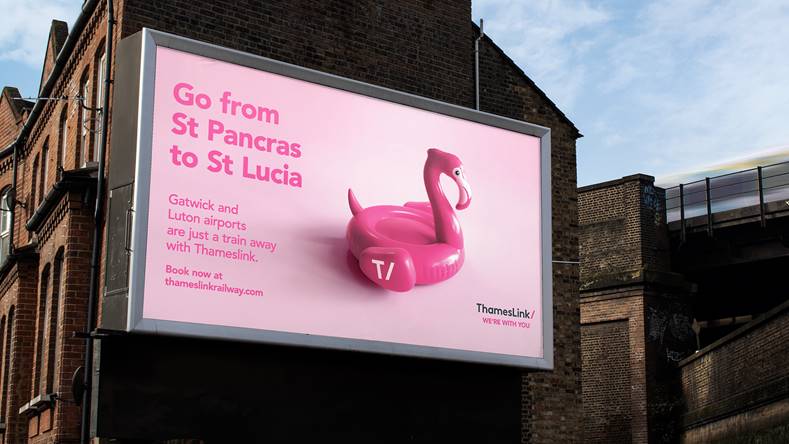 Created by TMW UNLIMITED, the campaign will run across digital display, Digital OOH (BT Street Hub spots across London) and press (local press and The Metro). It features bright and engaging imagery and snappy slogans to entice people to escape the 'doom and gloom' of UK winter and recent storms in favour of destinations abroad. Slogans include "Go from Bedford to Bologna", "Go from Loughborough Junction to Los Angeles," and "Go from platform 5 to 35,000 feet."
TMW UNLIMITED were responsible for the campaign ideation, 3D design & artwork, with OMD managing the media planning and buying. The campaign went live on the 21st of February 2022 and runs to the 3rd of April 2022 in multiple locations across the Thameslink network.
Recent research has shown 61% of people plan to go abroad within the next year, an increase from 2021, showing consumer confidence for foreign travel is well and truly on the rise. The campaign helps customers view train travel as the simplest, stress-free way to get to the airport from across the Thameslink network which runs from Brighton to Cambridge, Horsham to Peterborough and through central London.
Emma Wiles, Head of Marketing, Govia Thameslink Railway said: "We wanted to inspire customers to travel by train this winter and needed a creative idea that drove people to take action and book their tickets. The OOH executions get customers to imagine they are experiencing the excitement of travelling to the airport where their holiday can finally begin."
Graeme Noble, Chief Creative Officer, TMW UNLIMITED said: "Our aim is to inspire a bit of escapism in our customers via all the global destinations they can reach starting from their local Thameslink Station; from St Pancras to St Lucia, Mitcham Junction to Milan or Tooting to Toronto. Working with our in-house Move Studios we created all the Thameslink branded props bespoke in 3D, with an almost hyper-real styling to keep in line with how we wanted the campaign to resonate with our audience."
Credits
Date
01.03.22
Title/Project
GTR Thameslink airport campaign
Agency
TMW Unlimited
Agency contact
Lucy Burns
Agency contact job title
Senior Account Director
PR
Nelson Bostock Unlimited
Client name & Job titles
Joe Jeffrey, Campaigns ManagerAmy Gatt, Senior Campaign ManagerEmma Wiles, Head of Marketing
Chief Creative Officer
Graeme Noble
Senior Art Director
Alexei Awan,
Senior Copy writer
Matthew Vaughan
Planner/CSU Director
Esme Noble
Account Team
Lucy Burns, Kerry Higgins
Producer
Jordan Collins
Production
Lloyd Francis (Move Studio Creative Director);
Luke Bosshard (Move Studio Senior motion designer)
Designer
Narcis Serrats
Retouching
Matt King
Studio Manager
Liz Hickson
Post Production
Move Studio
Exposure (media channels)
DOOH, digital display, press
Source: TMW UNLIMITED