Great Guns and Director Duncan Christie deliver a heart wrenching and moving campaign film, '2050', to promote and raise funds for the UK's largest breast cancer charity, Breast Cancer Now.
The film follows a young girl on a secret mission – the purpose of which isn't revealed to the viewer until the very end. Over a series of days, we see the tiny trooper determinedly studying complex science textbooks, watching quantum theory videos, and raiding the house for objects to use in her special project.
In the final reveal, the girl wakes up her mother, who has breast cancer – and leads her inside a 'time machine' that she has made from cardboard and household items. As mother and daughter sit in the makeshift machine together, the girl turns the dial from 2017 to 2050.
The film closes with Breast Cancer Now's aim that by 2050, everyone who develops breast cancer will live. The message of the film is that for some, including the family portrayed in this film, the year 2050, can't come soon enough.
Great Guns' Duncan Christie directed the bittersweet film – skilfully striking the perfect balance in tone between heart-breaking and empowering. Commenting on the project, Duncan says: "My aim was to build up a sense of intrigue to draw in the audience, making the final reveal all the more impactful. We kept the visual tone hopeful as we wanted to focus on the optimism of our young hero. We also felt the story would benefit from a naturalistic approach. In order to capture off-the-cuff, 'snatched' moments in the life of this family, we chose to improvise at times, leaving room for spontaneity during the shoot.
"In order to tell this story truthfully, we had to get into [actor] Jessica's mind-set," Duncan continues. "As one expects for a film so heavily reliant on a child actor's performance, our casting process was exhaustive. We saw a lot of great young actresses but Jessica had that spark which ultimately made her the only choice. She has the emotional intelligence and charisma to a carry a film of this weight."
'2050' was unveiled this month at the 2017 A Bigger Bounce fundraising event at The Roundhouse, held in aid of Breast Cancer Now. Sponsors included Viktor & Rolf, ITV, The Roundhouse, Hearst Magazine, Cucumber Productions Ltd., Moet Hennessy, Phil Mcintyre Television, Talon, Quantum, JamVans, Rhubarb and Great Guns.
During the event, hosted by Alex Jones, generous prizes were donated and auctioned off. A Raffle saw prizes ranging from a brand-new car, to an overnight stay at the Dorchester, tea at the Wolseley with Dame Barbara Windsor and dinner at restaurant '34' with Bruno Tonioli.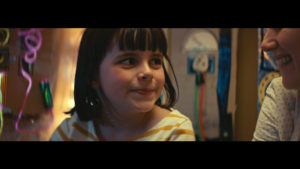 CEO of Great Guns, Laura Gregory comments: "Breast Cancer Now is making progress towards the 2050 goal, but reaching it is dependent on continued public awareness and raising money for vital and much needed breast cancer research. The committee for A Bigger Bounce worked tirelessly to produce the third event. Co-Chairs, Carolyn McCall and Philippa Brown did a superb job pulling the committee together and harnessing everyone's strength to deliver a top-notch night of fun and entertainment. The committee gathered prizes that were truly out of this world and worthy of the amounts raised. I lost my mother to breast cancer and will always give time to raise money for continued research to beat the disease."
Source: Great Guns