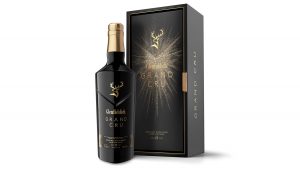 Glenfiddich has released a unique new expression, Grand Cru; an exclusive Scottish Single Malt matured for 23 years and finished in rare French cuvée casks, with identity and packaging design by London-based studio Here Design.
Following the recent rebrand of the core Glenfiddich range – including new packaging design for its 12- and 15-year-old liquids – Here Design took the brand's maverick spirit to new levels with Grand Cru, creating a new 'celebratory' drinking moment for Glenfiddich and the wider whisky category.
An entirely new variant to the Glenfiddich range, Grand Cru is the first of the Grand range embodying the brand's maverick spirit, pushing the boundaries of the whisky category by pairing with a definitive luxury world. The liquid is finished in cuvée casks, culminating in a myriad of aromas from sweet brioche to sandalwood and pear sorbet.
"As a maverick whisky we are interested in redefining what single malt can be – for us this means continuing to assert the brand's unquestionable status within the single malt category as well as pushing the boundaries," says Tess Wicksteed, Strategy Partner, Here Design. "Glenfiddich has the vision, determination and desire to do things differently. It is a whisky that forges its own path on its own terms.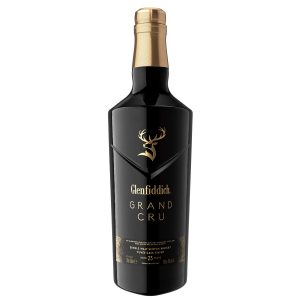 "In Grand Cru, the brand's non-conformist spirit, embodied by the proud stag, takes us from Scotland to another prestigious realm, marrying the tradition and purity of Scottish single malt with a distinguished world of luxury. It is a liquid designed to be shared and celebrated."
Each bottle of Glenfiddich Grand Cru bears the brand's golden stag emblem – the iconic reference to the 'Valley of the Deer' where the liquid originates from and a contemporary expression of Glenfiddich's unique heritage.
This stag sits proudly on a black glass bottle finished with the chiselled 'V' shape synonymous with the Glenfiddich brand, an ornate golden closure and opulent black presentation furniture featuring a sparkling golden firework design, emanating the spirit of celebration and luxury contained within.
Source: Here Design