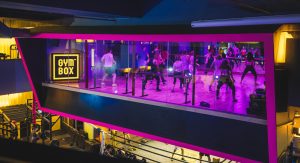 Gymbox, the antidote to boring gyms that reset expectations in the fitness industry, has appointed Quiet Storm as its lead creative agency.
Replacing Mother as Gymbox's agency, Quiet Storm will focus on creating communications that emphasise what makes it different to other gyms.
The agency's first work will break in January 2019 with digital & outdoor media in London. The campaign will showcase the unique USPs that Gymbox offers, providing serious fun through a wide variety of unique and creative classes, DJs, parties, and active holidays.
Founded in 2003, Gymbox now operates 10 gyms in London and is based on a philosophy of making working out as fun as going out.
Rory McEntee, Marketing Director of Gymbox, said: "Gyms are often associated with pain, suffering and boring exercise. Not Gymbox. The new strategy is all about building on our vision of being the antidote to boring gyms and showing why we're different. We were really impressed with Quiet Storm's ability to understand what is at the core of our brand. They bring to life that we have everything under one roof in a simple yet impactful way – showing the fun and uplift you experience when you go to Gymbox."
Trevor Robinson, the Executive Creative Director and Founder of Quiet Storm, said: "Any time you get a client who wants to be brave and to be pushed then you've got a real chance to make great creative work. Gymbox want to stand out against the bland competition, and we love working with brands that have this kind of attitude."
Source: Quiet Storm