Dentsu One has launched a new campaign to mark Honda City's 20 years in the Indian market. Honda City has been at the forefront in its category since inception.

However, it is a lesser known fact that the brand has battled multiple competitive threats over a period of 20 extensive years and has remained at the top as a true category-leader. The landmark of successfully leading for 2 decades is a reason to celebrate and initiate a conversation with the loyalists and intenders alike, and continue the legacy of being at the top.

Honda City has evolved into a persona from being a mere product. No other product in the category commands the poise and ever-evolving dynamism that Honda City captures in the minds of the user and would-be users alike. As the brand sets its gaze towards the future, expanding its audience base further by catering to younger and the older groups alike – it was a clear direction to amplify the very feeling of this 'attachment' and elaborate the brand. And raise a toast to the milestones to come – To The Next 20!

Titus Upputuru, NCD, Dentsu One said, "20 years is a long time. Governments change. Maps undergo change. But as we were briefed to do a campaign on this milestone, we thought as a leader, instead of looking back and dwelling on the past glory, the brand must look ahead. The film showcases what may well be an insight into the future, into the power of dreams."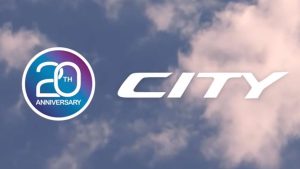 Abhinav Kaushik, Senior Vice President, Dentsu One said, "The legend of Honda City grows and evolves every year. As the brand breaches this milestone of 20 years and sets itself for the future, it lays a foundation for a world of imagination – that only a Honda City could create in the years to come. This campaign is an ode to the 'future of possibilities' and it reaffirms the leadership of Honda City as an iconic, innovative and imaginative brand."
Source: Campaign Brief Asia