Oath announces a new campaign with HP to deliver an Augmented Reality (AR) experience to inspire millennial families to think creatively about printable paper craft, the first in the UK since the company announced the international roll-out of its AR formats at Mobile World Congress.
The campaign centres on HP Instant Ink's Free Printing Plan and HP Envy Photo printer, bringing to life how photos printed and folded into different frame styles using creative papers would look in people's homes or other locations via the Yahoo Mail App.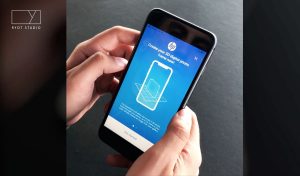 Created by Oath's RYOT Studio in-house creative team in partnership with Omnicom Media Group's PHD and HP, the AR experience is brought to life through the Yahoo Mail app and enables users to select photos from their device via the app and place them within printable picture frames, giving them a real life view of what it would look like on a counter at home, or on their desk at work.
The AR experience expands the campaign around practical paper craft with HP that began on Tumblr, providing surprising and inspiring ideas to families on how paper craft can be used in daily life – like decorations and children's accessories. Working with Tumblr influencer Ladyland, a creation of inspirational videos around paper craft and family photos were developed to build a series of Tumblr GIF sets as well as being incorporated into HuffPost commercial articles.
The AR user experience mixes real-time video from a phone camera with virtual models. This means that consumers can see an ad and then proceed to experience the product in AR without leaving the app.
Oath is testing these formats within the Yahoo Mail iOS application using the Yahoo Gemini platform currently. The formats will be expanding to other mobile applications in the future.
Laura Davies, Marketing Manager at HP commented: "We are excited to work with Oath on this piece of content as it is a great way to combine the modern technology of augmented reality with the traditional nostalgia of printing physical photos, which can now be done with professional quality at home. The two worlds don't often meet and we feel that this is a unique partnership with engaging and relevant content that we hope people will enjoy."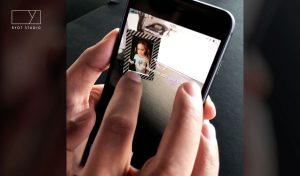 "We always strive to help brands deliver great experiences on mobile, people's most personal device. Our new augmented reality formats are already proving a hit, with an average dwell time of two minutes on our pilots in the US. This campaign harnesses the power of AR to allow users to see for themselves how a premium HP printer can enhance their home," said Mark Melling, Head of RYOT Studio UK at Oath.
"The experience allows them to play around with the pictures stored in their phones, try out the different styles of photo frames and visit our dedicated Tumblr site to find out more about how you can use paper crafts as a family. We're excited to be using this technology to enhance the way HP is connecting with its customers. It's a great example of using advertising to bring useful experiences to people who – like me – probably have a tonne of photos stored digitally and inspire us to actually display more of them in our homes."
As well as the AR experience, videos and editorial about the HP campaign are also being distributed via native platform Yahoo Gemini and premium video platform BrightRoll. To see the the HP activation on Tumblr in action, visit here.
Source: Oath