VOXI, the mobile network for young people unveils its new campaign "The Fun Never Ends", the first by AMV BBDO
VOXI by Vodafone, the mobile network for social media lovers, has unveiled its new campaign, "The Fun Never Ends" to promote its Unlimited Social Media proposition.
Inaugural work by AMV BBDO, the tongue-in-cheek campaign sees two immortal beings scrolling and sharing experiences and laughs for eternity thanks to their Unlimited Social Media plan. The friends, two brains in jars, entertain themselves by creating dance videos, exploring side hustles, and snapping food pics just like any other Gen Z'er.
VOXI offers a variety of SIM-only plans available through a flexible monthly subscription, enabling customers to use selected social media and video apps as much as they like without eating into their general data allowance. All plans come with unlimited calls and texts as standard.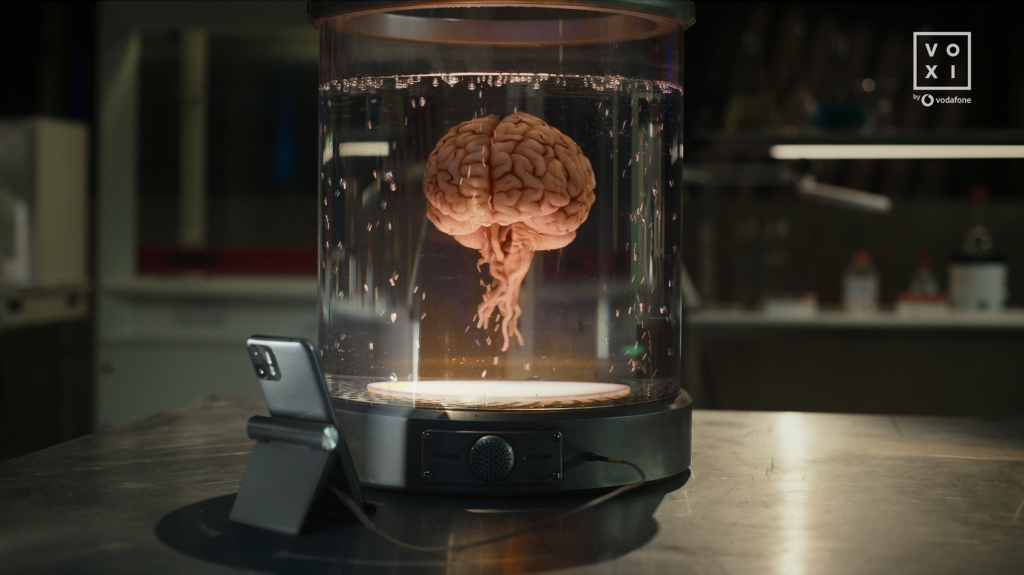 To highlight VOXI's Unlimited Social Media offering, the agency posed the question: who needs it more than someone (or something) that lives forever? That's how the idea of two brains in jars, who love nothing more than jumping on the latest social media trend, was born.
The TV, social and digital ads see the two brains going through the emotions of browsing for the latest sneakers or trying to save a glorious plate of beige fish and chips with a filter. Beyond the archetypal stereotype of scrolling social media mindlessly, the characters use it to connect, learn, share their interests with others, and educate themselves – a true reflection of the VOXI customer.
In the same mood, the agency also created dynamic OOH for key locations across the UK that will be pulling real time social media trends live. With versions of 20", 15", 10" and 6", the ads can be seen on VOD, Facebook, Snapchat, Instagram, and YouTube as well as on TikTok and Twitter later in the year.
Maria Koutsoudakis, Brand and Marketing Director, Vodafone UK and VOXI, said: "In a cluttered telco market, we needed a campaign that would create cut through and fame for VOXI's unique proposition. Reviewing the market today, it's clear that the surreal and humorous quadrant was a wide-open space for us. We also know how important social media access is to this generation, and wanted to celebrate the positive, entertaining, educational and career aspects that it provides."
Mike Hughes and Dalatando Almeida, Creative Directors at AMV BBDO, said: "We are rather fond of our immortal characters. Not only because they help us dramatise the benefit of VOXI's Unlimited Social Media, but because they go against the category cliché of just showing young people doing cool stuff".

CREDITS:

Client: Vodafone

Brand: VOXI

Campaign title: Immortals

Client name: Maria Koutsoudakis, Jo Wedlock and Sara Belardi

Creative Agency: AMV BBDO

CCO: Nicholas Hulley and Nadja Lossgott

Creative Director: Dalatando Almeida and Michael Hughes

Creative Team: Mike Kennedy and Sophie Beard

Strategy Team: David Edwards and Summer Taylor

Account Management Team: Anna Covell, Pink Kitsawat and Sasha Barrett

Project Management Team: Sam Eggleton and Alice Balland

Agency Production Team: Trish Russell, Bertie Murch, Rhiannon Nicol and Joe Sloane

Design Team: Chris Chapman, Javier Auguste, Dan Mead and Dian Sofia

Media Agency: Carat

Production Company: Biscuit Filmworks

Director: Jeff Low

Production Co. Producer: Adam Oyejobi

Post-production Company: Untold Studios

Sound Studio: Wave Studios
Source: AMV BBDO