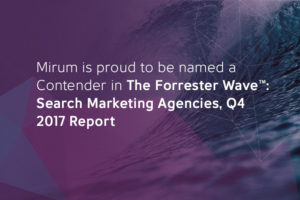 Mirum is proud to announce that it's been named a Contender in The Forrester Wave: Search Marketing Agencies Q4 2017 Report for the first time.
Forrester noted that Mirum brands itself as a "borderless agency," which means it is globally connected and collaborative…", which they support. Mirum received its highest scores in the performance, number of employees and breadth of offering criteria.
For the Forrester Wave Report, Forrester researches, analyzes and scores the top search marketing agency providers, showing how each provider measures up to help B2C marketers in their search agency choice.
Mirum was one of only twelve agencies asked to participate in the report. "This is an important milestone as we build this business," said Dan Khabie, Global CEO of Mirum. "We know we are new to the market and are excited to bring a different vision. Search is critical to Commerce Activation and our strategy is to break down the barriers between brand building, social and conversion to grow our clients' businesses."
Mirum's approach to performance marketing features SEO and SEM as the industry expects, but also includes retail media, vertical search engines and integrating social influencer activation. Mirum believes its clients' business success will come from seeing the full picture of the business challenge and making sure there is a consistent customer experience.
Mirum' s clients include Nextel, Caesarstone, Aladdin, Sky and Banco Original.  
Performance marketing has been a cornerstone of our business in Brazil for years and Mirum is one of the largest buyers of media from Google in Latin America. This engine also supports our teams in the US, Mexico, UK, South Africa, India, China, Indonesia and Vietnam. Beyond partnering with Google and Facebook, Mirum also partners with Walmart, Amazon and WeChat for clients.
Mirum utilizes an advanced set of tools to drive search campaigns for global clients and link our performance marketing teams around the world. Hive, Mirum's resource and project management platform, and Pangaea, Mirum and J. Walter Thompson's AI-driven knowledge platform, unite the expertise of Mirum's 2,400 professionals across 24 countries.
Mirum is part of the WPP Data Alliance that supports WPP agencies' data business and access to data-driven marketing applications. Mirum's performance marketing tools also include Mirum CRM, Mirum SEO Prioritization Platform and our proprietary Content Landscape Analysis.
"Having been evaluated by Forrester is hugely motivating to our teams and helps us set our priorities as we grow," said John Baker, Global CMO of Mirum. "Being evaluated alongside agencies that specialize only in Search is a challenge, but we know clients need to break down the silos between search, social and the broader experience design, and we will continue to demonstrate we can do that."
You can download the Forrester Wave Report here.
Source: Mirum