The Interbrand New York office, Interbrand's HQ, announces senior promotions. Andrew Miller, Executive Strategy Director and business unit lead, has been named Chief Growth Officer. Daniella Giavina-Bianchi, Executive Strategy Director, has been named Chief Strategy Officer and will continue her business unit leadership role. Miller and Giavina-Bianchi continue to be part of the New York Executive Leadership team and report to Daniel Binns, CEO Interbrand New York.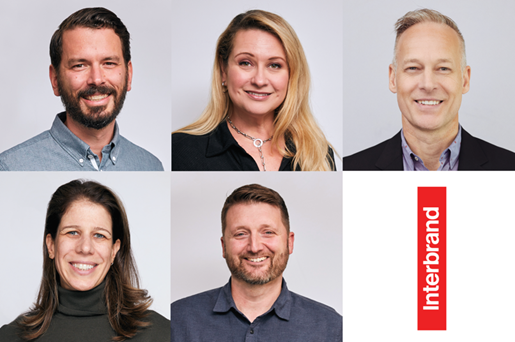 Interbrand New York has a Portfolio structure; effectively separate business units within the larger firm who have dedicated teams servicing clients across all disciplines – including creative, strategy, analytics, verbal and client management. With more than 30% revenue growth in 2022, Interbrand New York has grown to accommodate a fourth portfolio of 20 people.
Penelope (Penny) Davis, Executive Director, Verbal Identity increases her role to co-lead the new business unit and adds Portfolio Lead to her title. Mike Knaggs, Executive Creative Director, expands his role to co-lead the business unit with Davis and adds Portfolio Lead to his title. Davis and Knaggs, who have both been with Interbrand NY for over 15 years, now join the New York Executive Management Team and as such report to Holmfridur Hardardottir, Executive Director and Chief Operating Officer.
Andrew Stewart, Executive Director, Strategy, adds Portfolio Lead to his title and takes on the position vacated by Miller. Stewart also joins the Executive Management Team reporting to Hardardottir.
"2022 was a great year where we saw much success and growth across our business," said Daniel Binns, CEO Interbrand North America and Global Chief Growth Officer. "It gives me great pleasure to be able to recognize teammates who have been with Interbrand for many years and to support their continued growth and development. I'm delighted to be able to announce these promotions and have Mike, Penny and Andrew join our already strong leadership team."
"All of the promotions are so deserved," Binns said. "Each of my colleagues have demonstrated that they are exceptional client advisors, brand experts and people leaders."
Interbrand New York partners with over 50 of the world's best known brands to deliver what the company calls 'Iconic Moves' – defined as bold steps brands take to leap ahead of customer expectation and drive competitive advantage. Headquartered in New York, Interbrand also has offices in Cologne, London, Madrid, Milan, Mumbai, Sao Paulo, Seoul, Shanghai, Sydney and Tokyo.
Source: Interbrand