Sarah Jessica Parker injects some of her trademark New York sass into 72andSunny Amsterdam's global campaign for Italian underwear brand and bra specialist Intimissimi, which introduces an entertaining solution to the daily challenge of getting your bra to fit comfortably.
In the film, Sarah Jessica Parker becomes a dance conductor who turns the ritual of putting on a bra into a craze called the Intimissimi bra twist. Each step – the Strap, the Hook, the Fit, the Twist – is performed by a series of bra-clad models who achieve their most comfortable and perfect fit.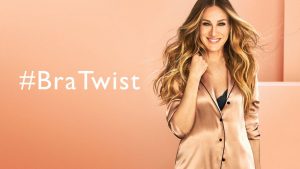 The five different models, chosen to represent women of many shapes and sizes and to show off the breadth of the Intimissimi range, perform the cheeky "bra twist" routine as they dance to the sound of the upbeat 60s Italian tune, 'Guarda Come Dondolo'.
In the accompanying augmented reality experience, powered by 8th Wall's Web AR technology, lingerie-lovers can mix and match from a selection of 40 bras and five AR avatar characters – including a 3D avatar version of Sarah Jessica Parker – to explore a range of different looks, with the chosen character performing Intimissimi's "Bra Twist" dance in an animation loop.
By clicking a link online or scanning a QR code, users can access Intimissimi's AR Bra Twist experience directly in their mobile browser, no need to download an app. Developed by Spark Lab, the AR experience links to the Intimissimi online store for more information and to purchase. Want to dance with an AR Sarah Jessica Parker? The whole experience can be captured and shared on social.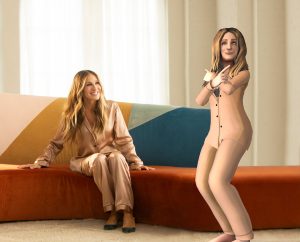 The new campaign brings to life Intimissimi's central brand message – that every woman has her own personal style and the right bra should reflect it, while also ensuring perfect comfort from the perfect fit – in a warm and relatable way that is encapsulated by SJP's wide-ranging appeal and New York sassiness.
It launches online on September 12th and will also run with an AR experience, on TV, OOH and print.
Benny Everitt, Creative Director of 72andSunny Amsterdam, said: "We wanted to make a campaign that felt modern, fun and fresh while simultaneously trying to own the universal feeling of putting on the perfect bra. We developed the AR experience to let customers have a dancing SJP in their pocket who could inform them about the products drive them to the online store."
Sarah Jessica Parker has been brand ambassador for Intimissimi since 2018.
Source: 72andSunny