As controversial Video Assistant Referee technology makes its debut in England's top football league, Klarna, the digital 'buy now, pay later' payment provider, is releasing an exclusive 'Klarna x VAR' shirt to highlight that the brand is the VAR of online retail, helping shoppers to get their decisions right off the pitch.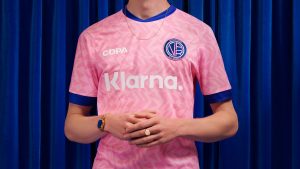 Designed to spark conversation amongst football fans, as part of a campaign created by 72andSunny Amsterdam, the new shirt design follows the introduction of VAR in England's top flight, following its extensive use in international competitions, major leagues around the world, and in the FA Cup.
In anticipation of significant discussion around VAR's introduction, and its pros and cons, 72andSunny Amsterdam, working with Stockholm-based FLB Europa as PR partner, set out to help Klarna hijack the conversation by emphasising that the brand gives people the confidence to make the right purchase decision and lets them pay at their convenience.
The 'Klarna x VAR' shirt – for 'those who like reviewing their decisions and getting things right, on and off the pitch' – is designed by British-Italian graphic and apparel designer Angelo Trofa, who is renowned for designing football kits.
He produced a five-volume publication called 'Football Strip Concept' in which he designed football fashion, spring-boarding his career into producing football apparel for the Republic of Ireland national team. The shirts were made by Amsterdam-based company COPA, which is renowned for its range of football-inspired fashion, including traditionally produced cotton football jerseys.
The limited edition shirt has been sent to influencers, football personalities and fans in a specially designed box that can be folded to resemble the VAR on-field review screen.
The shirt will feature heavily across Klarna's global and regional channels, and wider exposure will be generated through media partnerships with global football fan culture network COPA90, which has created a forthcoming content series called 'Who Do You Think You VAR?' and will also support the campaign by helping to share kits with influencers, and football fan culture magazine Mundial.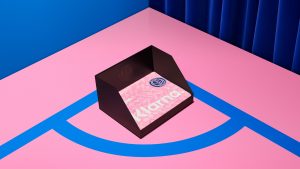 Jorgen Sibbern and Josh Harris, Senior Creatives, at 72andSunny Amsterdam said: "You often see brands generically dive into sports culture without the credibility to be there. When Klarna wanted to do something rooted in football, we decided to hijack a territory where nobody else was. VAR, like Klarna's Pay Later functionality, allows people to review their decisions. The world of banking isn't the juiciest place to be, so by making it a simple metaphor for Klarna, the most talked about (and polarising) thing in football became a way for football fans to understand how the product works. And when you, on top of that, celebrate VAR with a freshly looking football shirt, people will talk. Lovers and haters. That's the best part about having an actual point of view."
Source: 72andSunny