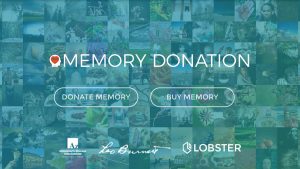 According to Alzheimer's Disease International (ADI) someone in the world develops dementia every three seconds. There are more than 50 million people living with dementia globally. With the number of dementia cases, including Alzheimer's disease, on the rise, it is shocking how low public awareness is of the condition that affects so many individuals and their loved ones around the world.
Leading dementia organisation, ADI has teamed up with Lobster to create 'Memory Donation', an innovative new way to donate to charitable causes. Billions of photos and videos are uploaded to the internet daily, preserving and sharing memories with our friends and followers. At the same time, millions of people living with dementia experience memory problems, a common early symptom. Lobster users can now donate their own 'memory' in the form of a photo or video to help raise awareness and funds for Alzheimer associations locally, and for the international work of ADI.

Getting started is simple and free. Just sign up to Lobster and use the hashtag #memorydonation on the image you want to contribute when you upload it to social media. Lobster's AI technology will automatically put your photo or video for sale to creatives, designers and the media. All proceeds from your Memory Donation will go to the Alzheimer's Association in your region, and to ADI.
Leading creative agency, Leo Burnett Moscow, has also been working closely with Lobster and ADI on the campaign's development. From inception, the agency has remained the main creative partner throughout the project as it aims to raise global awareness of Alzheimer's Disease.
Source: Lobster