The LTA is partnering with Marcus Method, a Sheffield based visual artist and designer, for the Mark Your Ball project which sees the LTA encourage new and old players to express themselves and celebrate their individualism by personalising tennis balls.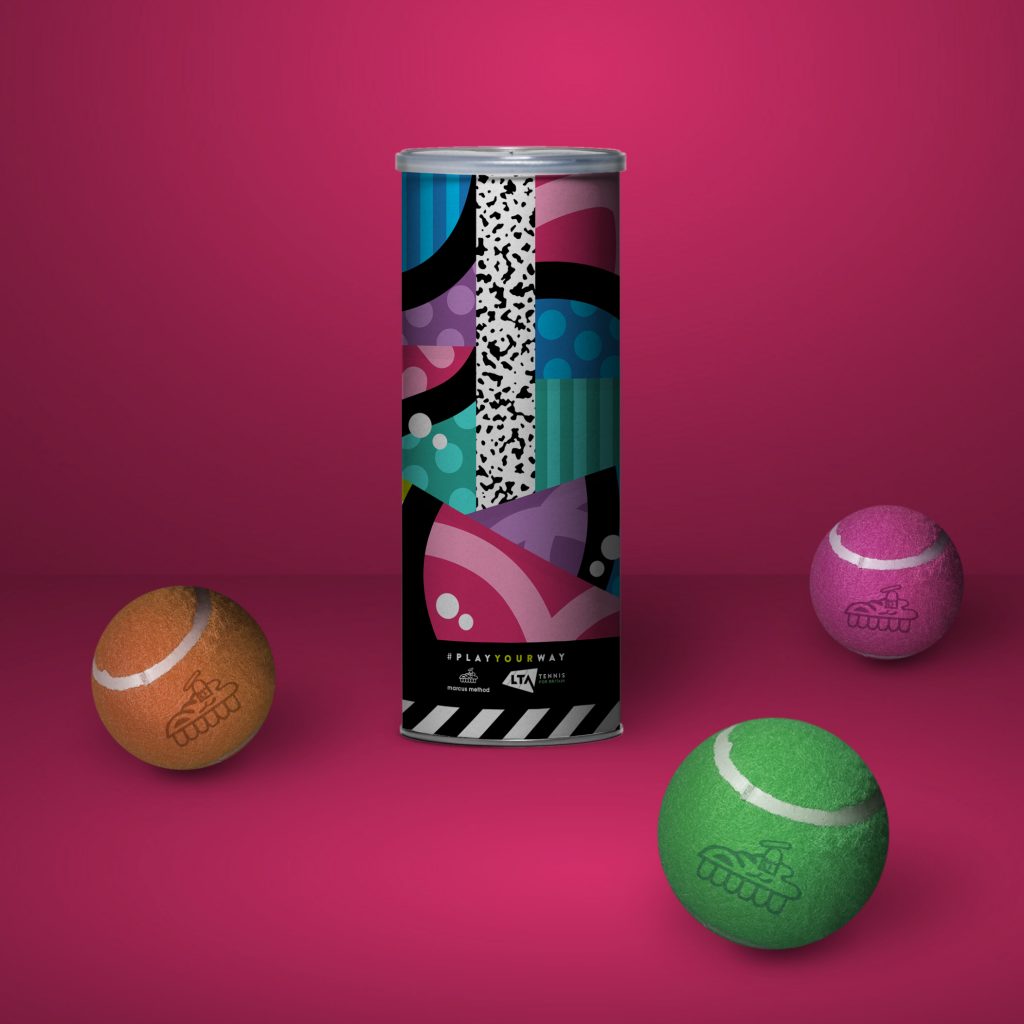 As restrictions eased tennis was one of the first sports the nation could play, and as more people look for outdoor social activities during summer, there has been a whole host of new participants. With this, the LTA is encouraging everyone to #PlayYourWay – playing where you want, how you want.
The partnership with Marcus Method brings this spirit to the iconic tennis ball, motivating players to be creative and Mark Your Ball with a unique personal design. As part of Play Your Way, Mark Your Ball provokes players to showcase their artistic flair and unique style of play no matter their background or ability and to express their individuality through the sport.Mark Your Ball design tips from Marcus Method:
You could try basing your design on your name or initials! Add patterns and colours insideof around the letters to make it unique.
To make it easier to draw on your ball, why not place it in an egg cup to stop it rollingaround.
Use a pen that is permanent. Try using fabric marker pens, Sharpies or paint pens such asPosca.
Try adding designs to the lines of the ball. This could be patters, stripes or even text.
Why not use your hobbies and interests as inspiration for your design, such as yourfavourite music, TV shows, YouTubers or games etc.
When adding colours start with the light colours first and then darker ones later, this willstop them mixing together.
Adam Hewlett, Head of Brand Marketing at the LTA said, "Marcus encapsulates the Play Your Way ethos through the workshops and talks that he leads, which help people break into the creative industry. Addressing core barriers to entry is exactly what we're doing with tennis and Play Your Way. We want to demonstrate that anyone can get involved, no matter their age, background or ability. Tennis celebrates unique styles and creativity and we want to bring that to life by encouraging players – new to the game or old hands – to add their own spin to the ball. We can't wait to see what people come up with".
The artist, Marcus Method said, "A main driving force behind my work is the desire to create a unique visual identity while exploring themes that are of interest to me. The LTA's Play Your Way campaign which aims to create a more inclusive world around tennis and celebrates individualism draws parallels with a big inspiration of mine. My work practices champion inclusivity in the art world and so I'm excited to be working on this campaign with the LTA to encourage all types of people to pick up a racquet and start to play."
As part of the LTA's partnership with Marcus, the LTA has donated tennis racquets from their commercial partner Babolat to Sheffield Futures to help their youth get involved with the sport. Marcus works closely with Sheffield Futures on community projects to help inspire their members to enter into the art world. As part of the notion of 'tennis opened up' the LTA wants to encourage people of all abilities, age and background to pick up a racket and play tennis on their terms and hopes that the racquet donation will help to fulfill this goal.
To further its commitment to grassroots participation and getting more people involved, the LTA, together with the All England Lawn Tennis Club, has donated a total of 70,000 tennis balls that were previously destined for use in this summer's grass-court season including Wimbledon, to venues and coaches across the country to help grow participation. The donation will see the balls distributed to coaches and venues including clubs, parks and schools.
So what are you waiting for? Grab a ball and let those creative juices run wild and be sure to share your designs with us by tagging @LTA on Instagram and using #PlayYourWay.
Follow the hashtag to see what the community designs and keep up to date with all the latest campaign activity. Find out how to get on court at https://www.lta.org.uk/playyourway or by following @the_LTA on Twitter and @theLTA1 on Facebook.
Source: LTA