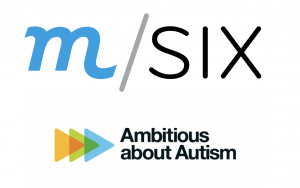 m/SIX was the first media agency to launch an internship programme designed to actively champion neurodiversity and unlock the potential of young autistic adults in 2018. Now in its third year the agency's commitment continues, seeing it dedicate more time and opportunity to the neurodiverse; expanding their already successful internship programme and calling out to the industry, to open their doors and minds to young autistic talent.
As the industry continues to make progress in areas such as gender, ethnicity and social mobility, m/SIX believes there is still little meaningful action within neurodiversity. It's estimated that around 1 in 7 people, that's more than 15% of people within the UK are neurodivergent and there are around 700,000 people on the autism spectrum, but only 21.7% autistic adults are in any kind of paid employment.
In the three years that the agency has worked with its charitable partner, Ambitious about Autism, it has not only found great new talent, but has seen the empowerment that its programme has brought to the agency's working culture; with staff learning more from one another, encouraging each other to listen, to give opportunities to speak and allowing each and every member of m/SIX to be their fullself. By being more thoughtful and open in its hiring processes, the agency has encouraged a supportive workplace that is psychologically safe and has seen an uplift in company morale.
This year's programme will welcome three interns for three months within the Programmatic, Customer Experience and Reservation teams, giving all participants access to GroupM University for a comprehensive training programme, as well as the opportunity to gain IPA accreditations.
Recently, the agency collaborated with the wider GroupM network to deliver an educational panel for Autism Awareness Week, with panellists discussing their experiences as autistic people in the workplace, as working parents of children with autism and the success of the Ambitious about Autism internship programme previously delivered at m/SIX. The panel was hosted by Ali MacCallum, CEO of Kinetic UK and former CEO of m/SIX who founded the internship programme in 2018.
Jolanta Lasota, Chief Executive, Ambitious about Autism, said "We've been working with m/SIX for three years and it's been a hugely successful partnership which has enabled autistic young people to gain valuable work experience at a leading media agency. The internships take place in a supportive and autism-confident culture which has been nurtured at m/SIX. This has had huge benefits, not only for the young people themselves but there has also been a positive impact on the whole workplace." Lasota added "m/SIX are fantastic champions of neurodiversity within the workplace and we're really excited to continue working with them to create new opportunities for autistic young people."
Hali Khan, People Director, UK & EMEA, m/SIX said "Our well-established programme offers autistic people aged 18 years and older the chance to showcase their skills and attributes in the workplace. In the three years that we've run this programme, we've only seen success and have been astounded by the learnings that we've discovered as an agency and as individuals. Diverse thinking is as important as helping diverse people and we not only encourage everyone within the industry to open their doors to autistic people, but we're happy to share our learnings with anyone who'd like to find out more."
Over the years of running the programme m/SIX have developed some strong learnings to share with other companies looking to offer similar opportunities. They have found that now more than ever, it is important to offer as much flexibility as the interns require to establish their own working pattern and routine, which might include offering them a specific desk, for example, when others may be hot-desking on return to the office. m/SIX, alongside Ambitious about Autism, carry out extensive training for managers of the interns to ensure they are fully equipped to support them properly and they also leverage Microsoft tools and capabilities which specifically support neurodiverse people.
Jack Swayne, EMEA CEO, m/SIX said: Many of us live with or know people with autism. Rather than mystifying this disability, we should open our minds and embrace the differences that can strengthen us. As an agency, we've not only welcomed many talented people into m/SIX and GroupM through our programme, but we've shown our staff and their loved ones that we truly care about who they are, recognising them as individuals and encouraging each and every one of our people to be their true selves, both at home and at work."
The Ambitious about Autism 2021 programme begins at the beginning of July. Call for Entries ends the 26th April: https://www.ambitiousaboutautism.org.uk/what-we-do/employment/paid-work-experience/work-experience-opportunities
Source: m/SIX