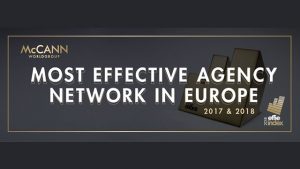 McCann Worldgroup Europe announced that is was named the most effective agency network in Europe in the 2018 Global Effie Effectiveness Index, based on the global results announced by Effie Worldwide. This is the 3rd time in four years that the agency network has achieved the Number 1 position in Europe. This is a record year for the group in Europe. In addition to retaining the Number 1 position, the network also achieved the highest score ever – beating all prior years.
Now in its eighth year, the Effie Index recognises the companies that create the most effective marketing communications ideas from around the world, determined by their cumulative success in more than forty national, regional and global Effie Awards competitions.  The 2018 Effie Index is compiled from 3,476 finalists and winning entries from worldwide Effie Awards competitions between January 1, 2017 and December 31, 2017.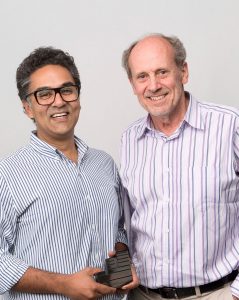 McCann Worldgroup Europe's winning result came from 19 markets demonstrating outstanding consistency across the entire region.
Pablo Walker, President McCann Worldgroup Europe said, "I am very proud of our region for retaining our Number 1 position in 2018. Being recognised for great ideas that deliver real business results to make brands more meaningful than ever is at the core of everything we do. This is a huge tribute to our clients and to our strategic team in this region who have forged a fantastic partnership with our creative team, one which underpins everything we do for our clients."
Harjot Singh, Chief Strategy Officer, McCann Worldgroup Europe added, "It is a real achievement to not only consistently lead the Effies across the region year after year, but also a testament to our strategic talent and leadership in every single one of our markets who contributed to this milestone. We share this achievement with all our clients across Europe, who truly partner with us in making work that is both creatively and commercially compelling."
Source: McCann Worldgroup Europe