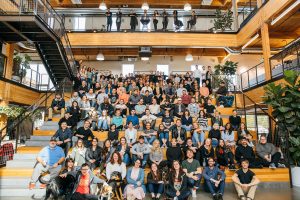 MDC Partners announced that it has acquired a majority partnership interest in Portland, Oregon-based digital agency Instrument. Founded in 2002, Instrument is one of the largest independent, digital brand and experience innovation companies in the U.S. The agency's 175-person team of strategists, producers, designers, engineers and content creators helps drive businesses and engage consumers. This new partnership accelerates MDC's growth and builds its portfolio of modern, innovative and digital-first agencies.
"As consumers spend more time immersed in digital experiences, marketers are increasingly looking for design-thinkers, builders and problem-solvers who can deliver innovative solutions and build brand equity," said Scott Kauffman, Chairman and CEO, MDC Partners. "Instrument has an impressive track record for leading digital marketing and technology-driven business transformation for some of the world's most innovative companies. Combine that with a founder-led culture, a deep pool of multi-disciplinary talent and a future-focused business model, and we couldn't be more excited to partner with them to fuel their ambitions for the agency."
The founder-led agency is run by Chief Executive Officer Justin Lewis, Chief Creative Officer JD Hooge and Chief Operating Officer Vince LaVecchia, and it builds digital brands, products and experiences for some of the world's most recognized companies, including Google, Nike, Levi's, Airbnb, Sonos and Dropbox. With a distinct values-driven agency culture and unique team model, Instrument has been named "a top 50 company creatives would kill to work for" by Working Not Working three years in a row.
"MDC's unique approach to empowering innovative entrepreneurs gives us a competitive advantage by allowing us to run our business as we see fit, while fueling our bold ambitions," said Lewis.
"We're on a mission to create more meaningful impact for purpose-driven organizations. With this partnership, we're deepening our commitment to solve real, human problems, leveraging design and technology to be agents of change," said Hooge.
Added LaVecchia, "In MDC, we also found a partner that respects our culture, and our entrepreneurial spirit of independence. This type of partnership is truly rare to find in this industry."
Source: MDC Partners