McCann London has teamed up with BreezoMeter's air quality data experts to raise awareness around London's "silent killer" – it's toxic air – by placing a roadside memorial in the capital's pollution blackspots to highlight the startling 9,400 premature deaths associated with this public health issue.
But this isn't your typical roadside memorial. It features Toxic Toby – a cute and cuddly animatronic soft toy that's fighting for the human right to breathe clean air. Toby is connected to BreezoMeter's real-time, location-based air quality data and triggers the bear to cough when air pollution reaches dangerously high levels.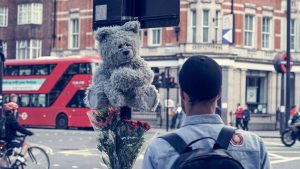 Each time Toxic Toby coughs, an automatic tweet is then sent to local MPs warning them that pollution levels have reached precarious limits, reminding them that they need to act. Toxic Toby will be attached to street lamp posts in London's pollution hotspots, where the levels of toxic air regularly exceed the recommended legal EU limits.
The project's goal is to use BreezoMeter's advanced technology and Toby's emotive power to raise public awareness around the startling health dangers of environmental contamination. Local government needs to step up action against the toxic air that's polluting London and face the stark reality that pollution causes nearly 40 times as many deaths as car accidents.
"We believe that there are two ways to address the issues associated with air pollution, that are becoming more and more common in today's news stories. The first is to reduce the amount of emissions, the actual pollution. This takes time and dedication, as well as great motivation from lawmakers and businesses – a real team effort. The second is an act we must do in parallel, and that is to understand that each of us can make better choices for our health if we are aware of what is in the air," said Ran Korber, BreezoMeter's CEO and Co-founder.
"Air pollution can be extremely dynamic, changing throughout the day, and from street to street. By democratising air quality data and raising awareness, through projects like Toxic Toby, we can choose a different time or place to exercise, to take our kids out to play, a different route to get to work or school. It's a series of small decisions that can make a difference over time, especially with the knowledge that our governments are taking appropriate action as well. Everyone, the world over has the right to breathe in healthy air."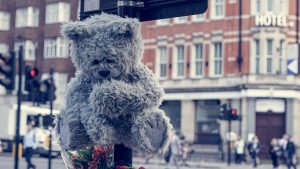 Laurence Thomson, Chief Creative Officer at McCann London, said: "The pollution levels in our capital have reached a public health crisis. Children, commuters, all of us – are exposed to unclean air on a daily basis – risking our health and wellbeing. Latest TFL figures show that 116 people lost their lives to road traffic collisions, whilst a startling 9,400 died of illnesses related to poor air quality. These figures are nothing if not shocking – and we think a cute, cuddly, coughing teddy bear, set up as a roadside memorial will provide the rude awakening needed to give this public health issue the attention it deserves."
James Crosby and Will Cottam, McCann London's Creatives behind Toxic Toby said: "The problem with pollution is that you can't see it, so it's easy to disregard as we go about our business. But Toxic Toby puts pollution and its harmful effects right in front of people eyes with something they can't ignore. The combination of an animatronic soft toy twinned with an alarming cough certainly turns heads. And teaming up with BreezoMeter's live, location-based pollution data allowed us to be reactive and target the worst offending areas to spread an important message."
Source: McCann London