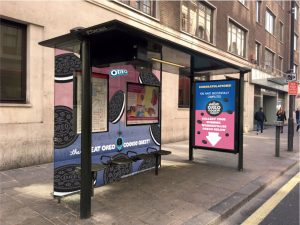 Oreo, the Mondelēz International-owned biscuit brand, has launched an out-of-home (OOH) campaign across London to drive purchase and participation in its 2018 Great Oreo Cookie Quest promotion.
The focal point of the OOH campaign is a specially built, interactive digital poster within a fully wrapped bus shelter on London's busy New Oxford Street. It offers passers-by the opportunity to find hidden cookies in a version of The Great Oreo Cookie Quest game and win a free pack of Oreos, dispensed directly from the poster site.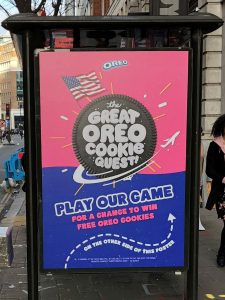 The OOH game comes complete with its own bespoke mobile interactive game with location-based targeting around the dispenser to lead users to the OOH site and encourage participation in the quest.
The Great Oreo Cookie Quest is an on-pack promotion offering customers the opportunity to win a grand prize of a trip to California along with daily prizes.
The campaign runs two weeks across 245 panels and 10 Transvision screens in rail stations across London, featuring a variety of creative executions directing people to the New Oxford Street game and encouraging purchase in-store.
OOH campaign planning is by location marketing specialist Posterscope and Carat with creative produced by Liveposter and is part of a wider advertising campaign that includes TV, online and in-store activity and displays.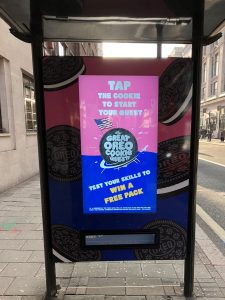 "We're kicking off this year in style with a wonder filled activation that offers a great brand experience for consumers," said Katie Dade, senior brand manager for Oreo. "As well as raising mass awareness of The Great Oreo Cookie Quest promotion, this OOH campaign, featuring the interactive game and prize dispenser, brings the game alive through an additional fun and experiential element."
Thomas Mason, planning and buying director at Posterscope, added: "It makes sense for The Great Oreo Cookie Quest campaign to incorporate an OOH element, not just to help drive people in-store to purchase but also to encourage them to join in The Great Oreo Cookie Quest as they go about their daily journeys across London. The increasing digitisation of out-of-home means that we can devise ever more innovative and fun elements into OOH campaigns, in this case a great interactive game and Oreo cookie dispenser."
Source: Posterscope