MSQ, one of the UK's fastest-growing marketing groups, has boosted its data credentials with the appointment of Robert Goodwin as the group's first Chief Data Officer.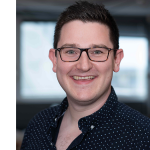 Goodwin joins MSQ from Wunderman Thompson, where he was heading up Data Strategy. In the newly created role, he will be responsible for putting data at the heart of MSQ's current operation, ensuring clients receive best-in-class thinking across the group's Data Analytics, Data Planning and Data Science functions.
Goodwin will also support the development of MSQ's new dynamic content capability, which will be implemented later this year following the group's strategic partnership with creative production business Brave Spark.
Based in MSQ's London office, Goodwin will closely align with Stack, MSQ's customer acquisition experts, helping the agency deliver further business growth. He will also support The Gate London and Walk-In Media, MSQ's creative and media agencies, and build connections with MSQ's data teams outside of London, creating a more consistent data-led proposition at group agencies such as twentysix and Stein IAS.
At Wunderman Thompson, Goodwin was responsible for leading one of the largest Data Strategy teams in the UK, working on global clients including Shell, BT & EE, Samsung, Toyota and Selfridges.
Prior to Wunderman he was the Chief Client Officer of data science start-up Outra, a Data Strategy Partner of Lida (now M&C Saatchi) and the Data Planning Director of J. Walter Thompson Worldwide.
Goodwin says: "I am delighted to be joining such a high calibre team at MSQ. I've been really impressed with the ambition of the Group and the plans it has to genuinely put data at its heart, in order to provide clients with true business-changing solutions."
Kate Howe, MSQ's Executive Director, says: "Our mission is to help businesses build High EQ brands that attract and grow valuable customers. In order to do that, we need to make sure that we provide joined-up, cutting-edge data capabilities at every touchpoint. That's why it's important to us to have someone who can drive our data offer across the group, and as soon as we met Rob, we knew that he was the right person to do just that."
As part of an ambitious growth strategy, MSQ has made a number of key group hires in the past 12 months. This includes the appointment of Howe, who joined as an Executive Director from Dentsu Aegis Network in February, and Charles Courtier, the former MEC Global Chief Executive, who has joined as Chairman. The group has also backed the launch of Walk-In Media, the new media agency launched by former Blue 449 Chief Executive Simon Davis.
In June, MSQ announced its intention to buy the Be Heard Partnership and three of its agencies – MMT Digital, technology and data consultancy agency Freemavens and Agenda21. The potential deal, which is subject to shareholder approval, aims to accelerate MSQ's growth by building scale and increasing its technical capabilities, particularly in digital tech and data analytics.
Source: MSQ