According to Wavemaker research, 63% of travellers find the last stage of their journey to and/or from Heathrow the most stressful part as a result of having to find a space for luggage and squeezing into carriages with commuters, on public transport; and/or unpredictable traffic if using a car or taxi service. A problem that is elegantly solved by Heathrow Express' unique proposition as the only non-stop rail service dedicated to getting travellers right to Heathrow's front door in just 15 minutes. With bags of space for travellers and their luggage too.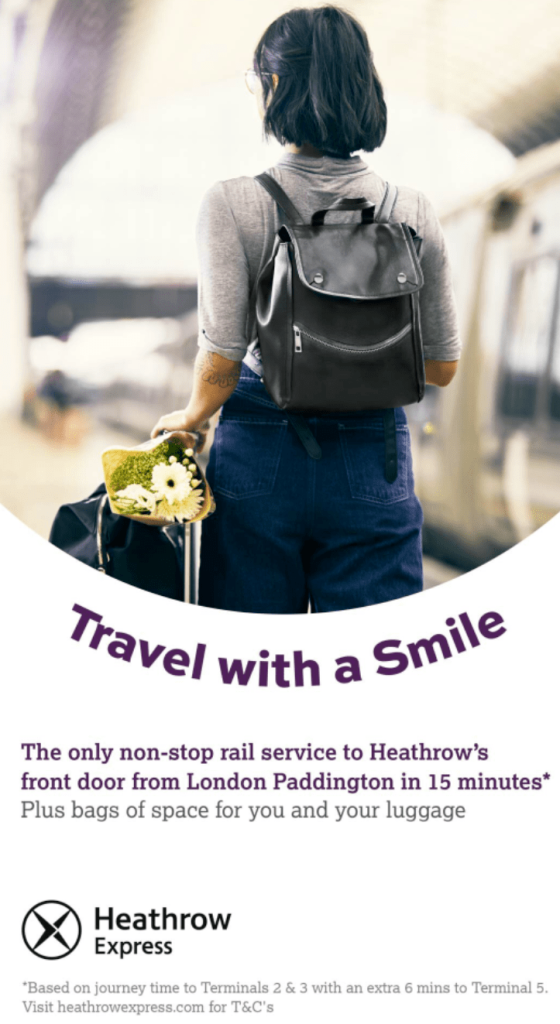 The new emotive campaign 'Travel with a Smile' was created by Wavemaker Studio working as an integrated unit with Wavemaker's strategy and media planning teams. The creative centres on the key visual of smiling happy luggage representing Heathrow Express' range of customers from holidaying families to groups of friends and solo travellers. It highlights with charm how Heathrow Express' experience of safety, space, comfort, attentive service and speed will ensure that customers will travel with a smile. While communicating, Heathrow Express' unique proposition – the only non-stop, dedicated rail service to the airport's front door with one simple aim to get passengers to their flights without the stress.
'Travel with a Smile' will run across a mix of geo-targeted Digital Display and DOOH in London and surrounding areas in the South West and South East from the 12th April, targeting active Heathrow passengers or those who are interested in travelling within the next 12 months.
Verra Budimlija, Chief Strategy Officer, at Wavemaker explained:
"We wanted to ensure that Heathrow Express is 'front of mind' with the ever-growing number of London travellers going to and from Heathrow Airport. The 'Travel with a Smile' campaign's provocative, yet subtle message has been designed to remind passengers in London, the South West and South East that this is the only stress-free way to travel to the airport's front door. We've really enjoyed working with the Heathrow Express team to create this eye-catching and thought-provoking work."
Sophie Chapman, Business Lead at Heathrow Express commented:
"Our spring 'Travel with a Smile' campaign has gone live in perfect step with our travellers' appetite for a stress free journey. Whether flying into Heathrow, or setting off, there's room to relax in spacious comfortable seats, with ample dedicated luggage storage spaces near the doors."
Wavemaker was responsible for the creative, and all media planning and buying,
Source: Wavemaker