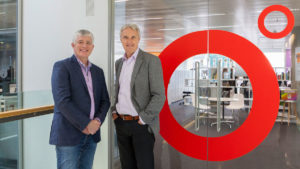 The newly created Omnicom Precision Marketing Group, announced two management appointments at Proximity Worldwide.
Doug Worple, currently Chairman of Barefoot Proximity in Cincinnati, has been promoted to the new role of Chief Executive Officer, overseeing strategic development for the network, its offer and its commercial performance. Mike Dodds, currently Managing Director of Proximity in Europe, will become Global President, reporting to Worple. Dodds will be responsible for new business, culture and talent development.
"Doug and Mike have successfully driven growth in their respective agencies, are fully embedded in the Proximity network and have the skills to take Proximity to the next level," said Luke Taylor, CEO, Omnicom Precision Marketing Group. "This new dedicated leadership at Proximity Worldwide will ensure that the Network is increasingly focused on leveraging resources from across the entire Omnicom portfolio to deliver powerful solutions to clients."
Worple is the founder of Barefoot Proximity in Cincinnati, which was acquired by Omnicom in 2008, and has served on the Proximity Worldwide Executive Team since then.  Dodds was the CEO of Proximity London for eight years, before being named Managing Director of Proximity Europe in 2015.
Each assumes their new role immediately.
Source: Omnicom Group