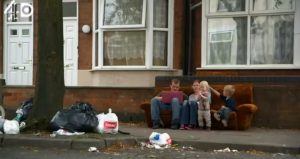 Research unveiled on May 8, suggests the advertising and media industries are perpetuating harmful socio-economic stereotypes because they're too focused on rich and middle-class households.
Six out of ten Brits (62%) are concerned that TV ads all too often only portray wealthy homes, while around two-thirds (63%) believe the poor are negatively stereotyped in advertising.
The survey of 2,000 UK adults was carried out by media agency UM as part of UK by UM, its ongoing research into stereotyping in advertising. It revealed that 41% of those who come from the C1, C2, D and E social grades feel that media representations of people of their social background are often stereotyped and caricatured.
Michael Brown, head of insight at UM, comments: "We keep being told that successful advertising is all about authenticity, yet poorer Britons feel caricatured – if and when they appear in advertising at all. Like many other supposedly 'less attractive' groups and demographics, they probably suspect ad land is ignoring them."
The study even found that around a third of Brits (32%) actually think public perceptions of the poor have become more negative over the past three years. Of those, more than half (57%) blame media coverage. A further 55% believe the media doesn't give enough spotlight to poorer people, and 44% want to see greater social inclusion in ads.
When asked why the poor currently aren't more visible in ads, 45% of Brits stated it's because those ads wouldn't sell the products, while almost as many (43%) say it's because the poor 'make people uncomfortable'.
Brown continues: "Many brands are rightly taking a stance against gender- and sexuality-based stereotyping, backed by the recent moves by the Advertising Standards Authority, but there are still more harmful stereotypes apparent both in the media and in ads. This industry needs to take the lead in challenging all the negative representations that are still so prevalent and dangerous. The ad industry might have been built on aspiration, but that doesn't mean people with less spending power have none at all."
Source: UM