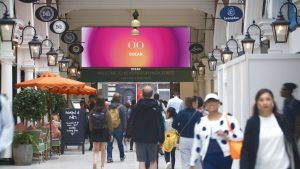 Premium out-of-home media owner Ocean Outdoor has extended its premium London portfolio with the launch of Kensington's first full motion, large format digital screen.
The landscape screen, which measures 5.5 metres wide by two metres high, is located above the exit to Kensington Arcade and faces High Street Kensington tube station which has an annual footfall of 12 million people.
The Arcade is owned by Ashby Capital and is currently home to 16 retailers and office tenants.
The Screen@High Street Kensington joins Ocean's national Grid network which includes 32 digital screens in London and eight other UK cities, giving advertisers access to more than 15 million people in handpicked locations.
Ocean chief marketing officer Richard Malton said: "This is a new premium DOOH location with upmarket audiences, long dwell times and a high proportion of people (56%) who say they are impulse buyers."
"The Screen@High Street Kensington is a new opportunity for brands who want to target affluent residents, commuters and shoppers in one of the UK's most established, busy retail and commuter environments. The luxury goods market is booming in London and this screen connects luxury brands to the most attractive audience in London, just in time for Christmas."
People living in Kensington and Chelsea are 5.9 times more likely to earn more than £100,000 per annum, with a high proportion of "city sophisticates" and "lavish lifestyles" living in the borough.  They are 42% more likely to be heavy OOH advertising consumers and agree that large DOOH advertising on buildings grabs their attention (source: YouGov).
Source: Ocean Outdoor