On the second day of the 2018 Cannes Lions Festival of Creativity, Ogilvy has scooped 42 awards, including the network's first Grand Prix for this year; Ogilvy Cape Town's 'Soccer Song for Change'.
June 19's winning streak also saw the newly relaunched global network being awarded 4 Gold, 12 Silver, and 19 Bronze across the Outdoor, Mobile, Design and Print & Publishing Categories.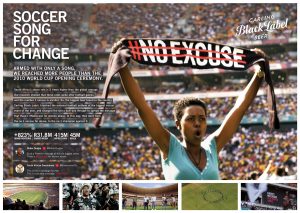 Grand Prix winning 'Soccer Song for Change' is a hard-hitting radio spot by Ogilvy Cape Town for AB-InBev Africa's Carling Black Label, South Africa's biggest beer brand. The campaign tackled the issue of gender based abuse rates spiking after football games. The creative team addressed the number 1 "excuse" for this behaviour, being alcohol by leveraging Carling's sponsorship of the country's two largest football teams– armed with only a song.
As part of this powerful initiative a choir of mothers and daughters entered the field just before kick-off and hijacked SA's national football anthem. Half way through, they changed the lyrics to highlight the issue of the abuse of women.
The campaign bolstered South Africa's call for social change by transforming a traditional Zulu struggle song, which was initially reappropriated by the football nation into a new anthem about gender based violence.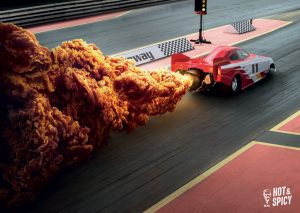 Ogilvy Hong Kong's clever and well executed 'Hot & Spicy' campaign for KFC Birdland was another standout contender on the night, winning 2 Golds in the Outdoor category and a third in the Print & Publishing Category. Ogilvy Hong Kong's creative team used shots of the Space Shuttle, a rocket-powered race car and a group of Power Ranger stand-ins to replace fire in photography —with blown-up (in more ways than one) images of spicy fried chicken.
The network's 4th Gold Lion of Day Two was also in the Print & Publishing category; Ogilvy Chicago's 'Sex and Drugs' campaign for Lyric Opera of Chicago. The Chicago team was tasked with changing the perception of Lyric of Opera Theatre to make it more appealing and accessible to millennials. They needed to highlight the "all too human" core of opera in a different, more compelling, and contemporary way.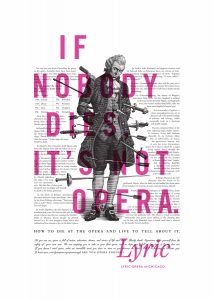 The resulting series of print, poster, and billboard adverts illustrated the interesting cultural and historical aspects of opera. Ogilvy Chicago's informative and humorous execution of the campaign provided prospective opera goers with a large set of tools to not be intimidated by their first experience, and to better understand any aspect of the opera art form.
Tham Khai Meng, Worldwide Co-Chairman and Chief Creative Officer, Ogilvy said: "Our courageous clients showed us the way. Their fight is our fight. Together, we worked as a team and did what we had to do to drive for business impact and to change culture. These awards are proof of our strong partnerships across the globe. Creativity is the most powerful competitive advantage a business can have. It is also our differentiator. You can't get more authentic and real than campaigns of this nature. Tonight, we celebrate our clients and our team spirit, and in particular the Grand Prix winning team in Cape Town."
Ogilvy has won a total of 42 Lions including: 1 Grand Prix, 4 Gold, 15 Silver and 22 Bronze.
Source: Ogilvy