Paddy Power launched their latest campaign, "EU-Revision". Presented by Irish music mogul and talent judge Louis Walsh (X-Factor, Britain's Got Talent), it aims to get people across Europe to vote for the UK in this Saturday's Eurovision Song Contest as revenge for Brexit. Why? Because if the UK wins, they'll have to host the contest, which means opening their borders to thousands of the people they love most: Europeans.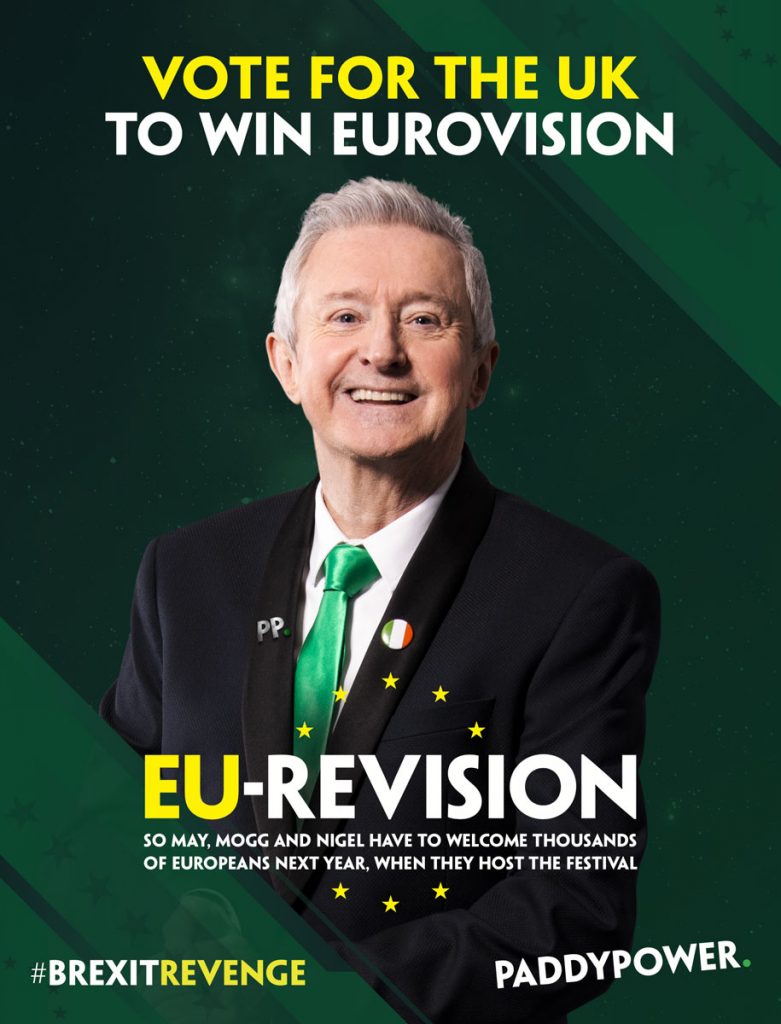 When the UK voted to leave the EU, prompted mainly by the whims of Brexiteer politicians, Europeans were understandably upset. After all, part of the reason for Brexit was supposedly to stop their EU neighbours from "flooding their shores". Well, as they say, revenge is a dish best served cold. That's why Irish betting house Paddy Power has teamed up once again with Spanish creative agency Officer & Gentleman, to give Europeans some light relief from the Brexit madness and some needed payback.
Eurovision is a much beloved song contest throughout the world, especially in Europe. But because the contestants are voted into the contest by the fans, the competition has always been subject to trolling, with some obvious jokes competing, and even winning, the over the years. Paddy Power wants to take advantage of that fan power, and their own penchant for mischief, in this tongue-in-cheek campaign.
So how will they get their vengeance for Brexit? According to Walsh, who presents the concept in a humorous video: "If they win, next year they'll have to host the festival and welcome thousands of Poles, Italians, Romanians, Irish…all those people that May, Boris and Mogg love so much. And Nigel, did I mention Turkey was in the contest as well?"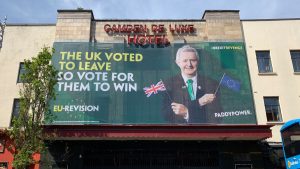 And to throw even more salt in their wounds, the cost of hosting the festival will add to the already inflated "Brexit Bill" prompting what Walsh refers to as a "real Brexit Party" in reference to Nigel Farage's newly formed political party.
That's why he and Paddy Power are "asking all Europeans to form a union against Brexit, and vote for the UK to win in the Eurovision song contest".
In order to mobilise Europeans, Paddy Power launched a massive campaign across Europe with a launch event, billboards and print in Ireland as well as targeting Eurofans throughout the continent, with banners and pre-rolls on Eurovision-related fan sites, since they're the ones ultimately responsible for casting the winning votes.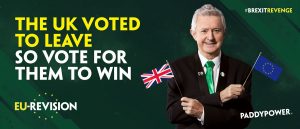 Louis Walsh hosted an event in Dublin for the public and press to present EU-Revision and where hundreds of fans lined up to meet Louis and participate in a singing competition to win two tickets to attend the Eurovision finale in Jerusalem this Saturday, where they'll act as Paddy Power's EU-Revision ambassadors at the event by cheering on the UK.
The campaign will continue throughout the week leading up to the finale with Paddy Power encouraging fans on social media to vote through dozens of additional videos, gifs and interactions with followers throughout the event.
Source: Officer & Gentleman