Pampers, together with Publicis Groupe (Saatchi & Saatchi London, MSL Group and Publicis Media) have launched their latest advert in the #ThankYouMidwife series, honouring the relentless work of Midwives over the Christmas period. This latest instalment includes an original recording of 'Silent Night' by Brit Award-winner and mum-of-one, Paloma Faith featuring the #ThankYouMidwife Choir, a collective of UK parents and influencers.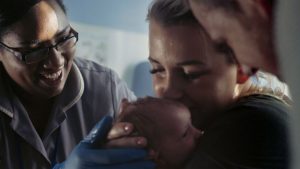 A study by UCL and NCT showed that 72% of births happen outside of normal working hours, with the majority of babies arriving at 4am. Midwives often spend long, busy and noisy nights on the labour ward, and Christmas Eve is no different. This year, while the rest of us are well underway with festive celebrations, midwives will be working tirelessly through the night to deliver babies.
The new 40" film from Pampers shows the busy and demanding job that Midwives undertake, every day in the labour wards of hospitals around the UK. Set against Paloma Faith's take on the Christmas carol, 'Silent Night,' the film juxtaposes the traditional peaceful atmosphere of Christmas, with the unrelenting busyness of the lives of Midwives. The carol is punctuated by the noises of the labour ward – curtains being pulled, machines beeping and babies screaming.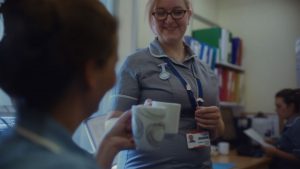 Knowing there is no such thing as a silent night for midwives, Pampers is continuing to rally the nation to say thanks to midwives for their un-silent nights. Since Pampers launched its #ThankYouMidwife campaign, over 40 000 people have already expressed their gratitude to UK midwives.
In 2018's Christmas' edition, for every download of 'Silent Night' by Paloma Faith, Pampers will donate £1 to the Royal College of Midwives Benevolent Fund. Pampers are also inviting the public to share their #ThankYouMidwife stories. As a further token of appreciation, every 1,000 public shares of #ThankYouMidwife posts will contribute to a midwife staffroom makeover in UK hospitals.
So far, one hospital staffroom at Princess Anne Hospital in Southampton has received a makeover, and a minimum of ten more are planned to take place over the coming months.
The campaign kicked off on November 30, with the release of Paloma Faith's 'Silent Night' featuring the #ThankYouMidwife Choir including parent influencers such as Clemmie Hooper (Mother of Daughters), and Georgia Jones, the wife of Danny from McFly.
The films then rolled out across TV and social media on 2nd December, premiering during Sunday's episode of The X Factor on ITV. The song is available to download from iTunes and Amazon Music from 30th November.  It will also be available to stream from all the usual platforms.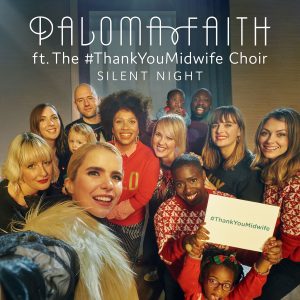 Commenting on the campaign, Paloma Faith, said: "I am so thankful to my midwives for the uncompromised care and support they gave me and my baby, which is why I jumped at the chance to be involved in Pampers #ThankYouMidwife campaign.  I had a long, difficult labour, but the midwives were there every step of the way. The Midwives, supported me through a 20-hour labour, working all through the night. I wasn't dilating, the baby was in jeopardy and I had to have an emergency C-section.  I can never thank the midwives at University College Hospital in London enough for the way they looked after me. I know they are doing the same for thousands of other mums and babies across the country, and for that, they should be celebrated."
Faye Cruickshank, from Pampers UK, said: "At Pampers, we want to continue supporting the UK's midwives for their important role in the happy, healthy development of every baby. With around 54,000 babies due to be born in December and 4am being the peak time for births, we know the Christmas period doesn't slow down for UK midwives and we want to say an extra special thank you for this and for their amazing work all year round."
Rob Burleigh, Executive Global Creative Director at Saatchi & Saatchi London, said: "At this time of year, when so many of us are enjoying ourselves it's important to remember those who are working in maternity wards up and down the country and thank them for the amazing job they do. Our aim is that no midwife should go un-thanked."
Source: Publicis Groupe