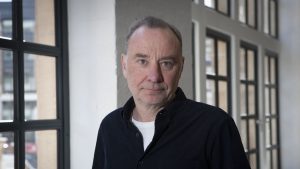 Paul Domenet, the former Saatchi & Saatchi Creative Director and Founder of Johnny Fearless, has become a partner at Free The Birds five months after the design and communications agency unveiled its new name and brand. He continues in his role of Communications Creative Director following the appointment.
Domenet, who played an instrumental role in the rebranding strategy and deployment, joined in 2016 when it was known as DewGibbons+Partners. He is now one of three Free The Birds partners, along with Nick Vaus, Creative Director, and Sara Jones, Client Services Director.
Domenet was Creative Director at Saatchi & Saatchi from 1997 to 2008 and left for a stint of freelance work, where he collaborated with agencies including Lowe DLKW, Elvis and Publicis. In 2011 he founded Johnny Fearless, which eventually brought him into contact with DewGibbons+Partners via their mutual client Davidoff.
Nick Vaus, Creative Director at Free The Birds, said: "Ever since we first met Paul, we have had such a sense of compatibility. We've long planned to make him a partner at Free The Birds. Now the rebrand has been fully rolled out, bedded down and embraced by our clients it feels the perfect time to formally acknowledge the leadership role that Paul has played during this phase of the agency's evolution."
Sara Jones, Client Services Director at Free The Birds, said: "As well as his role in the rebrand, Paul has brought an added dimension to our business by enabling us to marry the visual aesthetic with beautifully considered language to deliver game-changing brand ideas and executions for our clients."
Source: Free The Birds