Free The Birds, the brand communication and design agency, has created a new social media campaign for animal welfare charity Compassion in World Farming (CIWF), featuring animals asking people to give them a 'day off', by choosing plant-based foods for a change.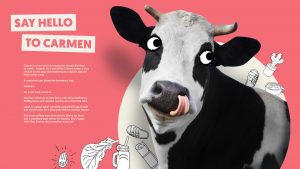 Characters including Charlie the Chicken, Perry the Pig and Carmen the Cow appear in animations created to share on social media. Each has a humorous bio, including their favourite past time, and they all encourage people to 'give them a day off'.
The campaign emerged from a brand identity brief that Free The Birds took on for CIWF on a pro bono basis as part of the agency's philosophy to do things that make the world a better place. Earlier in 2018, Free The Birds created the 'Friendly Food' brand identity for CIWF, as well as the trade lobby film 'Mouths', which launched in June.
Leah Garces, Executive Director USA at CIWF, said: "Free The Birds has not only given us the 'Friendly Food' brand identity, which was our original brief, but has now given us tools to lobby the food industry and mobilise consumer power. We are hopeful these campaigns will help us achieve our longer-term goal of influencing companies directly and via consumer pressure to reduce their meat-based protein by 25% by 2025."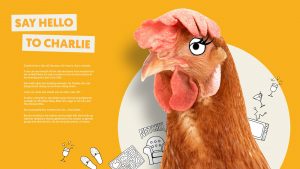 Sara Jones, Client Services Director at Free The Birds, said: "There are plenty of messages promoting vegetarian diets but we wanted to give CIWF's campaign a tone of voice that is more playful and accessible. The idea is that this will engage audiences and encourage them to think about the issue in a similar way to how we now think about sustainable farming."
At the same time, Free The Birds has confirmed that Paul Domenet, the former Saatchi & Saatchi Creative Director and Founder of Johnny Fearless, has become a partner. He joined the agency in 2016 and was instrumental in its rebrand earlier this year.
Source: Free The Birds