FAP is a neurological, inherited progressive disease. To clarify what the symptoms of this rare and hard-to-diagnose condition are, Pfizer invited TracyLocke Brazil—a global agency part of groups Omnicom, ABC Group, and DDB Latina—to create a delicate campaign to bring awareness to the disease and show that it's possible to slow down its progression.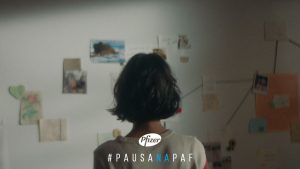 Written by the agency and co-produced by Stink Films, the movie Beautiful Dreamer is the affectionate story of a young woman who's always writing down the dreams she wants to realise. It's then that she is diagnosed with the disease and sees her dreams fading away.  However, her hope springs anew when she finds out that the disease can be treated.
The soundtrack was composed by audio production company Lucha Libre, which reimagined a song written by Stephen Foster in 1864, recorded by Bing Crosby in 1940, and which became famous due to the Beatles' 1962 version. 
To Rodolfo Barreto, Chief Creative Officer at TracyLocke Brazil, the goal was to raise awareness of an important cause and sound the alarm about how the disease is largely unknown. "Communication must always focus on people. We're talking about a life that may or may not be interrupted. This is what makes people conscious of and helps them understand Pfizer's work."
Source: TracyLocke Brazil