Quest, Discovery's free-to-air factual entertainment channel, today reveals a fan-centric campaign to promote the launch of the EFL Highlights using the powerful strap-line 'Different Teams, Shared Dreams'.
Created in-house by Discovery Creative London, the campaign features television, outdoor, radio, print and digital, and will be live from August 1. It centres on the key insight that although football fans are tribal, they have a shared passion for the game that unites them all. It also introduces a new identity for Quest's sub-brand Quest Sport, with striking burnt orange and black branding.
The campaign has a significant digital component, with homepage takeovers of Football League World & Vital Network which will run across weekends for five weeks. A Facebook and Twitter campaign will also target fans of football league teams throughout the season, and EFL: The Reaction, an interactive, fan-centric Facebook Live programme hosted by Colin Murray will broadcast at 6pm every Saturday on Quest's Facebook page.
Quest is also partnering with talkSPORT with a bespoke content strand and promotional trail throughout the season. Every Friday & Saturday morning within the Breakfast Show, Quest will own bespoke features discussing all the highlights of that weekend's EFL action with Ray Stubbs. Quest will also have prominence during every live broadcast on Friday night and Saturday lunch time fixtures, as well as the midweek, Carabao Cup & Checkatrade Trophy games.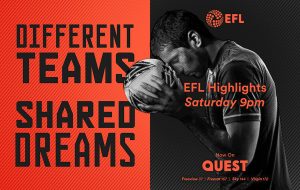 The EFL Highlights advert will air on Film4, Dave, BT Sports, ITV3, ITV4, Channel 5, Pick, Sky News, Sky Sports Main Event, Sky Sports Action, Sky Sports F1, Sky Sports News, Sky Sports Mix, Sky Sports Football, 5Spike, 5USA and CBS Action from August 1 to August 11. The outdoor and print campaign will target regions with a high volume of EFL clubs, including London, Birmingham, Bristol, Leeds, Portsmouth and Sheffield from August 1 to August 11.
"This campaign was created to cement Quest as the new home of the EFL Highlights. We wanted to bring fans closer to the EFL, their local teams, and to each other. We are all united in our passion for the game and experience the same excitement, hopes and disappointments, and at Quest we're ready to welcome all the action from the new season," said Simon Downing, SVP, Head of Quest & Eurosport UK.
"We set out to promote the EFL on Quest by creating a bold new brand identity that runs through every touch point: on-air packaging, title sequence, programme graphics and the studio set, as well as across our social channels and multi-platform marketing campaign. The campaign itself is based on the concept of 'EFL United': whichever of the 72 teams we support, we are united by a universal hope that this year is our team's year," added Robin Garnett, Vice President Creative UK, Discovery.
Quest is available on Freesat 167, Sky 144, Freeview 37 and Virgin 172, and QuestOD can be accessed via the player and the Google Play Store and App Store.

Source: Discovery Creative London