Laka, a community-based insurer of cyclists has been rebranded by Ragged Edge. The new brand sets Laka up to change the fundamentals of insurance, offering a revolutionary model to turn the industry on its head.
Tobi Taupitz, co-founder, Laka says: "Traditional insurance models, with complex clauses, excesses and a painful claims process are broken. Our customers – starting with cyclists – work as a collective to share the cost of claims that actually happen, rather than ones that might."
Following a successful seed round, Laka enlisted Ragged Edge to develop a new brand identity that could establish collective cover for cyclists in the UK and Europe, as well as set the company up to develop other insurance products in the future.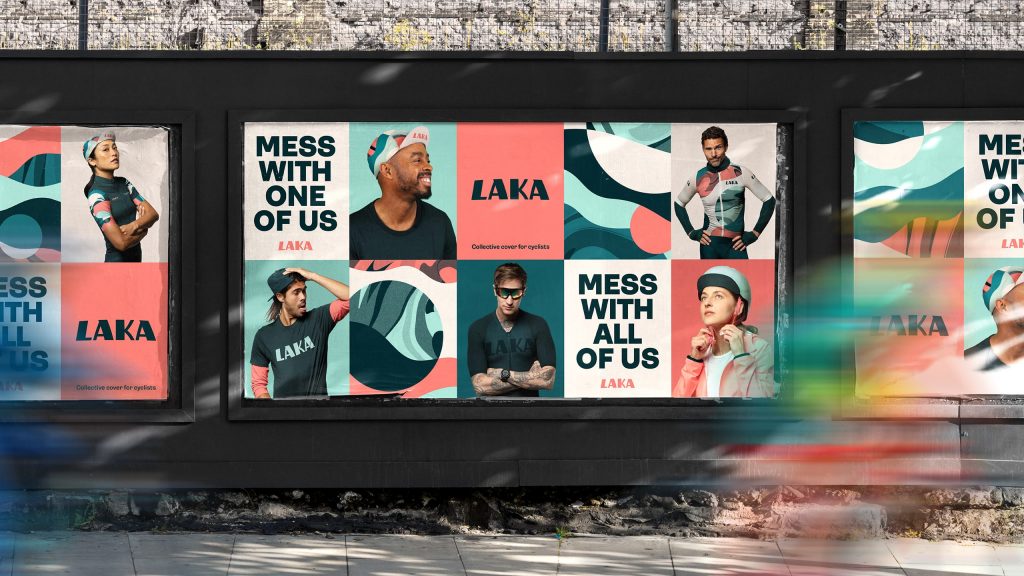 STRENGTH IN NUMBERS
The insurance industry is often associated with misfortune and mistrust. Laka needed a brand to challenge those preconceptions and establish a positive, community-based model.
Max Ottignon, co-founder, Ragged Edge, says: "When we club together, everybody stands to benefit. And that very simple idea is what this brand is built from. Clubbing together reflects their insurance model. It speaks to the shared passion of everyone in the cycling community. And it gives Laka the opportunity to expand into any product, for any collective of people."
For a model unlike any other insurer, Ragged Edge set out to develop an identity for Laka unlike any other insurer.
THIS IS TEAM LAKA
Laka's fun-loving and characterful new identity is the antidote to the insurance industry. It recognises the different tribes that exist in cycling yet brings them together to feel part of a bigger collective team, celebrating its strength in numbers.
Bold portraiture photography heroes the collective's diverse members, and strong team colours unites them. Landscape-like patterns are inspired by mud, sweat and tears from a ride. And a tone of voice that's never afraid to go full-on bike nerd is used as a rallying cry to members – mess with one of us, mess with all of us.
A TEAM SPORT
Ottignon says: "At one point Tobi forbade us from using the word 'insurance'. I think that speaks to the bravery of this client, wanting not only the product, but the brand, to be capable of creating real change in the insurance industry." 
Taupitz says: "Ragged Edge has created a brand that will really resonate with the cycling community, but isn't restricted to cycling. I hate the word disruption, but it'll really disrupt the industry. And sets us up perfectly for growth as we fundamentally change what insurance means to people."
Source: Ragged Edge